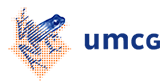 Radiation Protection
Introduction
In medicine, radiation is used as both a diagnostic and a research tool. UMCG students and staff who work with radiation must be at least level 5 radiation experts. This means that they must be able to independently assess their personal safety and take corrective action if necessary. The course is organized by the Groningen Academy of Radiotion Protection (GARP) of the University of Groningen.
Aims

RPO-D: Students acquire the level of knowledge and understanding required by many employers for working with easily dispersible radioactive material in a radionuclide laboratory. This level is also required by the authorities for working with sealed radioactive sources or managing several low-risk sealed radioactive sources.
Content
Topics include nuclear physics, the interaction between radiation and matter, measuring radiation, radiation dosimetry, biological effects of radiation, legislation and practical radiation protection. Note that the course does not include lab skills training.
ECTS
4
Programme
The course consists of 9 or 10 three-hour lectures and 3 or 4 three-hour practicals.
The theoretical component of the RPO-D training can also be acquired through self-study but the practicals must be completed in person. The self-study material is also available in English.
Registration
Students of Medicine and Dentistry who want to follow this course and earn ECTS counting towards their bachelor 'Honours' programme must apply to JSM in advance. Students can register the GARP website. Although all mathematics required for the course will be explained in the lectures, participants must have some prior understanding of powers and logarithms and the interpretation of both linear and logarithmic graphs.
Please note that the costs for this course will not be covered by the JSM
Contact
For more information, consult the GARP website
or send an email to:
dr. J.M. van der Mark - van der Wouden, JSM
j.m.van.der.mark@umcg.nl
| | |
| --- | --- |
| Last modified: | 05 December 2018 1.13 p.m. |