Mart Analbers
"Tijdens mijn stage op een middelbare school vind ik de één-op-één-gesprekken met leerlingen het leukst."
Ik heb gekozen voor de master Orthopedagogiek omdat je daar het meeste contact hebt met kinderen. Ik heb kinderen altijd al leuk gevonden: ze zijn vrolijk en onbevangen, nemen de wereld nog niet te serieus. Ik wilde aan de RUG studeren vanwege de stad Groningen: een fijne stad, niet te groot, lekker overzichtelijk, maar met genoeg te beleven. Mijn keuze was snel gemaakt!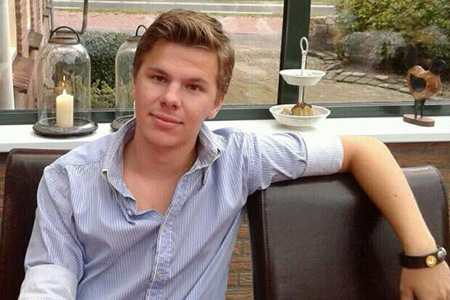 Momenteel loop ik stage bij een scholengemeenschap. Alle niveaus worden er aangeboden, van praktijk tot gymnasium. Ik heb verschillende taken. Ik zit in een zorgoverleg samen met docenten en zorgcoördinatoren, waar we de leerlingen bespreken die problemen hebben. Ook test ik kinderen op bijvoorbeeld dyslexie, intelligentie of faalangst.
Het leukste zijn de één-op-één-gesprekken met leerlingen. Dat zijn meestal kinderen van een jaar of dertien, veertien, die problemen hebben waar ze met de mentor niet uitkomen. Daarmee komen ze dan bij mij terecht. Sommigen vinden het lastig om gestructureerd te werken. Hen help ik om vooruit te plannen, als ze bijvoorbeeld een toets hebben.

Maar ik krijg ook leerlingen met sociaal-emotionele problemen. Zo heb ik gesprekken met een jongen die net van speciaal onderwijs naar regulier onderwijs is gegaan. Hij had moeite met aanpassen, wist niet goed hoe hij zich in de klas moest gedragen. Ik help hem bijvoorbeeld met wat je wel en wat je beter niet kunt zeggen tegen klasgenootjes, of hoe je je het beste kunt gedragen in een WhatsApp-groep. Hij gaat echt vooruit: zijn gedrag verbetert en zijn cijfers gaan omhoog. Dat is mooi om te zien.
Ik vond het van tevoren wel spannend om stage te gaan lopen. Je hoopt maar dat de praktijk is wat je ervan verwacht. Maar mij bevalt het heel goed. Ik denk dat ik in het afgelopen half jaar net zoveel heb geleerd als in de eerste drie jaar in de boeken. Wat ik ook leuk vind, is dat ik veel theorie terugzie in de praktijk. Al in de eerste weken kwam ik methodes en tests tegen waar ik tijdens de studie over heb geleerd.
| | |
| --- | --- |
| Laatst gewijzigd: | 13 juni 2017 15:43 |