Professor Andreas Faludi
Honorary doctor in Planning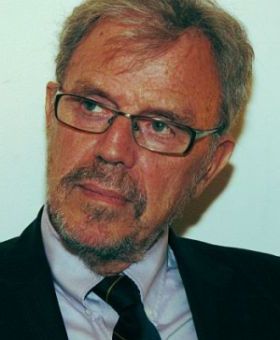 On June 13, 2014, professor Andreas Faludi has received an honorary doctorate from the Faculty of Spatial Sciences, in honor of the 400th anniversary of the University of Groningen. Honorary doctorates are awarded to those who have made exceptional contributions to society, science or politics.
Faludi
Andreas Faludi (1940, Budapest, Hungary) studied architecture and urban planning at the Technical University of Vienna. In his 'English' period, Faludi brought together different lines in the planning theory and connected these to the philosophical debate around critical rationalism. Through his actions, the planning discipline managed to develop a strong theoretical foundation. Faludi settled in Amsterdam, where he was seized by the special character of the Dutch planning. In the 80s and 90s, he has provided the Dutch the planning debate with a lot of ideas and examples about how we can look at spatial planning and spatial development. Particularly, he has described the influence of the Dutch culture on space and influence of the space (the Dutch delta) on the Dutch culture. 'The Dutch love rule and order' is perhaps his most quoted one-liner.
In the nineties, Faludi launched the term 'environmental planning', with which he proposed an umbrella term to connect various forms of Dutch planning (spatial planning, water management, environmental planning, traffic and infrastructure planning, etc.). This concept has been very important in Dutch planning in the last decades. A proof of his influence is the proposal of the government to collect all environmental laws (more than 60 separate laws) into one overall environmental law. The proposal for this 'omgevingswet' is very topical.
The past fifteen years, Andreas Faludi has been the big man behind the analysis of European planning. He is one of the few authors on this theme. His impact on the planning is undeniable, initiating and diverse. Faludi has launched himself several times over, and has manifested himself as front-runner and leader of the debate every time.
Faludi worked at various Dutch universities as a professor of Urban Design (Delft, 1974-1977), Planning (Amsterdam, 1977-1998) and Spatial Policy Systems in Europe (Nijmegen 1999-2004). In 2009 he was appointed Honorary Member of the Association of European Schools of Planning (AESOP). Currently, he works at the Delft University of Technology.
| | |
| --- | --- |
| Last modified: | 07 February 2023 10.15 a.m. |