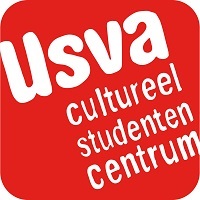 Usva is hét culturele centrum voor studenten in Groningen. Het doel van deze studentenvoorziening van de RuG is om studenten cultuur aan te bieden in alle kunstdisciplines: van muziek tot theater en van literatuur tot beeldende kunst, je kunt het allemaal vinden bij Usva. Heb je altijd gedanst en wil je dat in je studententijd voortzetten? Of ben je juist op zoek naar een leuke nieuwe culturele uitdaging? Bij Usva is iedereen welkom! De deuren van haar kleurrijke pand aan de Munnekeholm 10 zijn vijf dagen per week voor je geopend.
Usva biedt cultuur aan op verschillende manieren. Zo kun je cursussen volgen tegen een gereduceerde prijs, maar Usva organiseert ook toffe toegankelijke evenementen in haar eigen theater. Veel van deze evenementen worden georganiseerd door commissies, bestaande uit studenten met hele diverse achtergronden die hun passie voor cultuur samen uiten.
Ben je op zoek naar een vereniging uit één specifieke kunstdiscipline? Ook dan zit je bij Usva helemaal goed. Usva is namelijk de cultuurkoepel in Groningen die verschillende culturele verenigingen verbindt. Of je nou op zoek bent naar een studentenorkest, -koor, -theatervereniging of een literair dispuut, je vindt er alle culturele studentenorganisaties die Groningen te bieden heeft. Tijdens de KEI-week organiseert Usva in samenwerking met Stichting KEI het evenement More To Explore. Hier kun je kennis maken met deze verenigingen en verschillende workshops volgen om een indruk te krijgen van alles wat cultureel Groningen te bieden heeft.
| | |
| --- | --- |
| Laatst gewijzigd: | 04 juni 2020 12:46 |