The wandering forest: Open House
| | |
| --- | --- |
| When: | Sa 21-05-2022 12:00 - 18:00 |
| Where: | de Beurs, Wirdumerdijk 34, 8911 CE, Leeuwarden |
On Saturday 21 May, when the BOSK trees surround our faculty building, Campus Fryslân will open the Beurs to the public. Come in and take a look at our fully renovated sustainable building, join a public lecture by Dr. Carol Garzon Lopez about the past, present and future of forests in the Netherlands, an interactive panel discussion, or join a creative workshop guided by students! We would like to welcome you on May 21.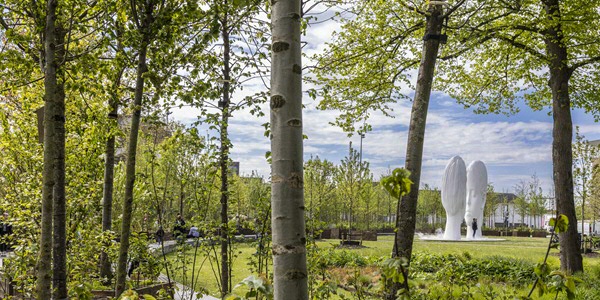 Lecture Carol Garzon Lopez - Once upon a forest. The past, present and future of forest in the Netherlands
The relation between societies and forests has evolved, from those diverse forests portrayed in famous dutch landscape paintings, to the small patches of nonnative forest we see today. More and more, we are starting to recognize its importance for climate and for our wellbeing and, starting to revive our connection to them in cities like Leeuwarden, through its parks and monumental trees. During this talk, we will rediscover the past, learn about the present and imagine the future of our connections with forests in The Netherlands.
Time: 14.00 - 15.00 o'clock
Location: Auditorium
Panel Discussion
We've invited interesting speakers from various background for a panel discussion on how the role of youth can aid in working towards making Friesland the most circular region of the EU by 2025. The panel will consist of the creative mind behind BOSK, Bruno Doedens, a representative of circulair friesland and a representative from the municipality's circular sector, as well as Jens van der Duim from the Jonge Klimaatbeweging. Feel free to join the conversation!
Time: 15.45 - 17.30
Location: Auditorium
Create your own protest sign
In the Living lab, There will be the opportunity to design and create your own protest sign! For the entire afternoon, cardboard, paint, and examples will be provided for visitors to support their expression of ideas and opinions, so we can fight for a greener and cleaner future together. These creative projects can then be shown to the world, as there is the opportunity to let them become part of the forest scenery that is taking place outside the beurs. Additionally, there will be a collective artwork, with which you can contribute to a broader understanding of what it means to become a cleaner species again.
Art Installation by students
In order to activate our senses in appreciation for nature, all day in room 1.22 there will be an art installation. You can observe nature in a creative way by stimulating your senses.
Location: room 1.22
Time: all day ongoing
Seed-postcard crafting
In light of the topic "how to be a cleaner species", the stand will offer participants to design seed postcards and write down sustainable manifestations - What can you, personally, do to be a cleaner? Take short showers, plant trees, change consumption behavior? Write it down and plant the postcard somewhere in nature to see your manifestation grow!
Location: Living lab
Time: all day ongoing