The Eric Bleumink Fund students
Current scholarship students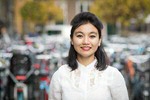 Niveen Reza (Bangladesh, 1992)
Niveen follows the 1-year MSc Educational Sciences; Learning in Interaction in Groningen. She obtained a Master of Education at the University of Dhaka in 2014 as a truly excellent student, with only A + grades and a CPGA score of 4.0 out of 4.0. In Dhaka she works for the largest development organization in the world: BRAC. Niveen: 'Growing up as a Bangladeshi girl is very challenging, a continuous struggle between my dream and the bare reality. Despite of mountainous challenges, I am one of the lucky ones who could finish higher education and have a job. Realizing how difficult life can be, it is my determination to create similar opportunity for other girls in Bangladesh. Taking that as my life's mission made me focus on the learning and interaction process and the building up of mind-sets. While living in the era of foreignaid based development in Bangladesh, I have learnt that nothing but the change in people's mind-set can only bring change.'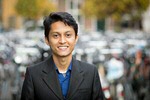 Satoto Shanto (Bangladesh, 1995)
Satoto obtained his Master's degree in law at Northern University in Bangladesh in 2018. He was one of the best students of his class with a CGPA of 3.75 on a scale of 4.0. In addition to his studies, he has voluntered at the United Nations High Commissioner for Refugees (UNHCR) in 2016. In Groningen he hopes to gain more legal knowledge to combat one of the major problems in his country (and the world): the refugee issue. That is why he is following a 1-year LLM Public International Law here. Satoto: 'Ever since I volunteered for the UNHCR, I have continuously reflected on how to mitigate the dire conditions of the refugees coming not just in Bangladesh but throughout the whole world. There has to be a solution to such a problem from legal perspective. That is why I applied for this course at the University of Groningen. I hope to conclude my thesis on Refugee law from international legal perspective, and hopefully I might also find some Grundnorms (the basic laws), regarding how to homogenize distinct jurisdictions in the world, so that, those who seek asylum or become refugees can assimilate into another jurisdiction seamlessly.'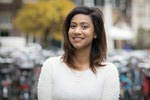 Sabrina Suhani (Bangladesh, 1990)
Sabrina started in September 2019 with the two-year master Biomedical Sciences in Groningen. In Bangladesh, she studied in the Department of Genetic Engineering & Biotechnology at Shahjalal University of Science & Technology in Sylhet. She gained A with Distinction in BSc and an A- in Msc. After her graduation, she has joined as a faculty member at this University and is engaged with research and teaching. Sabrina: 'Biomedical science is an important sector of applied science as it is offering exciting promises to help the health and welfare of mankind. The countries that are best positioned to properly use this knowledge are those with a well-developed scientific infrastructure, efficient manpower in research and established links between academia and industry. However, the benefit of this dramatic new advance in biosciences for developing countries and improvement of the quality of life of their people is still questionable. Due to increasing demand of knowledge in the biomedical sector in a developing country like Bangladesh, a significantly wider range of academics and research activities have become a need of time for this country, as well as for the other developing countries. The Department of Genetic Engineering and Biotechnology, Shahjalal University of Science and Technology has always given emphasize on these areas to make some expert professionals with new knowledge. And as a faculty member of the respective department, I think I am responsible for making a big move in this field and it is my duty as a human being to make our future better as the future is not only ours.'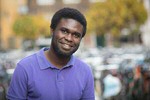 Michael Kimaro (Tanzania, 1989)
Michael graduated from the University of Dar es Salaam, Tanzania in 2012. He received the BSc in Wildlife Science and Conservation as one of the best of his class (with honors, second class, upper division). After graduating, he became a member of the Tanzania Community Forest Conservation Network and gave training in forest management to village leaders. From 2013 he works for the Ruaha Carnivore Project and conducts research into the behavior of large carnivores, investigates human carnivore conflicts, and help to mitigate such conflicts with people. In 2018 he obtained a Postgraduate Diploma in International Wildlife Conservation Practice at the Recanati-Kaplan Center of the University of Oxford.
Michael: 'Tanzania is one of the world's richest biodiverse countries. I would like to become well trained and skilled to help my country to manage wildlife resources, deal with problems that both wildlife animals and people face, and improve socio-economic development targets of people living near the protected areas. After completion of this Master, I will share the knowledge and skills gained from the University of Groningen to my colleagues in Tanzania, through active training and community outreach programmes. I aimed to establish a carnivore conservation project in order to promote research, conservation, and tourism in the Southern circuit of Tanzania. This project not only will focus on reducing human carnivore conflict, but also will be a centre for students to conduct their Masters and PhD research activities, from various Universities, perhaps including students from the University of Groningen.'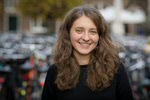 Kateryna Bukrieieva (Oekraïne, 1997)
Kateryna already knew Groningen from an Erasmus + exchange program in 2016-2017. The emphasis in the Dutch education system on 'understanding' instead of 'remembering' motivated her enormously. Back at the Igor Sikorsky Kyiv Polytechnic Institute of the National Technical University of Ukraine, where she completed a BSc Management in 2018, she therefore tried to apply the knowledge gained in Groningen as much as possible. She is now following a 1-year MSc in Economic Development and Globalization with the aim of helping her country become part of Europe. Kateryna: 'At the University of Groningen I obtained a new dream - to work at international organizations, such as the institutions of the EU, make an impact on society and help my home country - Ukraine - integrate into the European community. Since Ukraine embarked on the road to development and wants to become a part of the EU one day, there is a great need of professionals, who understand how integration will affect the economic development of the countries and how to reap the benefits of it. '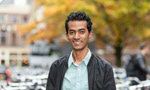 Monieb Abdelrahman Mohammed Ahmed (Sudan, 1991)
Monieb started in 2017 the biennial Master of Medical Pharmaceutical Sciences at the University of Groningen. Monieb completed his bachelor's degree at the University of Khartoum with honours. In Sudan there is a great need for well-trained pharmacists who have the knowledge to develop their own medicines. This makes the country less dependent on the import of medicines. After his master, Monieb would like to return to his native country to put his acquired pharmaceutical knowledge into action.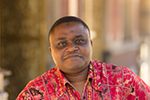 Harrun H. Garashi (Kenya, 1973)
Harrun started in 2015 his PhD Behavioral and Social Sciences. His research is titled: 'The structure of personality in Eastern Africa: a psycholexical study and questionnaire development in the Swahili language'. Research on personality structures often relies heavily on language. Many theories assume that the relevant characteristics of people can be expressed in language. But most of this research has been done in the European language area. Harrun wants to investigate the psycholexical Swahili. This is the first time systematic research is done into personality structure in a large Africa language.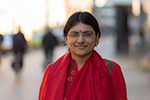 Barnali Chakraborty Chumki (Bangladesh, 1978)
Barnali started in 2015 with a PhD Spatial Sciences at the research group of demographer and nutritionist Hinke Haisma at Spatial Sciences. Her research is titled: 'Normative determinants of child nutrition and wellbeing in context of Haor areas of Bangladesh'. Barnali wants to combine ethnographic research with qualitative data analysis in order to find solutions for malnutrition among young children in Bangladesh. She works as a senior researcher at the world's largest development organization BRAC. Here she can finally put the results of her research into practice.
| | |
| --- | --- |
| Last modified: | 13 February 2020 09.53 a.m. |