Aart Bosman Student Excellence Award
This prize, that was last awarded in 2017 at the closing ceremony of the academic year, will be reassigned and will no longer be awarded to a GUF-100 winner.
Between 2014 and 2017 the Aart Bosman Student Excellence Award was presented to the most outstanding RUG student. The award consists of a €2.500 scholarship to contribute towards the student's academic study or research, preferably abroad. The ultimate winner was selected from a group of 9 winners of the GUF-100 prizes. These were the best, most diverse students from each faculty.
Alumnus, Gezinus Hidding, is the head sponsor of the Aart Bosman Student Excellence Award. With this prize, he would like to honor his instructor Aart Bosman, while simultaneously giving back to his Alma Mater and its students.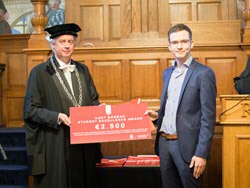 Winner 2017
Folkert Nobels has won the Aart Bosman Student Excellence Award 2017. Folkert completed his both bachelor studies, Physics and Astronomy, cum laude. Subsequently, he passed the Bachelor Honors program. At the moment Folkert does two master's studies, also in Physics and Astronomy. His figures are even higher, and may lead to two summa cum laudes. In the meantime, Folkert has also established an international student association for astronomy students and is volunteer at the Blaauw Observatory and in the 'Youth Workgroup Astronomy' group.
Previous winners
Winner 2014: Zoë Zernitz
Winner 2015: Thijmen Calis
Winner 2016: Thomas Hoeksema
Aart Bosman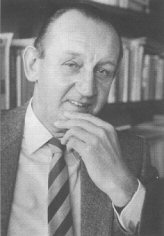 Professor Aart Bosman (1930-2008) was a professor at the University of Groningen until 1995, and is the founder of the field of Information Systems in The Netherlands. He was an innovator, a new and inventive thinker, never one to follow the beaten path. This wilful professor encouraged students to take on extracurricular activities so that they could stand out. For these reasons, his name fits well with the Student Excellence Award: it is particularly students who, alongside their brilliant study results, know how to diversify by taking on extracurricular activities. Professor Bosman has numerous Dutch and International publications to his name. More than ten professors and twenty PhD graduates have resulted from his school. His handwritten books are still being used in Universities in the Netherlands today.
From 2014 the Aart Bosman Student Excellence Award will be awarded to the most excellent RUG student yearly by the Ubbo Emmius Fund. This is the Fund of the University that alumni and relations can donate to, to support special research projects and scholarships and awards for students.
| | |
| --- | --- |
| Last modified: | 11 July 2019 1.09 p.m. |