Waste
At the University of Groningen, we weigh every kilogram of waste produced and the waste flows are accurately mapped down to parts of the building. This is a valuable instrument for achieving further savings on the amount of waste produced.
The University of Groningen's waste policy was revised in 2019. From the end of March 2021, the RUG will separate waste at the source. This means that not only post-separation is done, but the University of Groningen environment is also set up for waste separation by students and staff. Waste islands are used for this.
The residual waste is further separated into the raw material flows: coffee cups, paper, PMD, organic waste and a small residual waste fraction. The amount of non-hazardous waste has decreased by approximately 40% compared to previous years. The graph shows the amount of waste in kg per employee + student.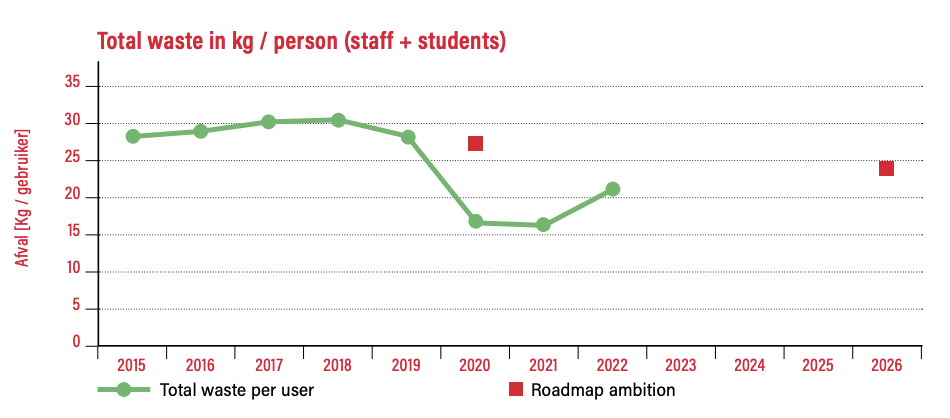 New developments
The Facility Organisation is working hard on a new European tender for residual substances management. To this end, we are working together with the Green Office. The goals for 2025 included in the new UG waste policy are: 95% waste separation by 2025 and a 15% reduction in the total amount of waste compared to 2020. This also means that we are striving to make all non-hazardous waste circular by 2025. The UG has a specific policy regarding hazardous waste.
In 2021, both non-hazardous and hazardous waste will be put out to tender again. The Program of Requirements states that waste is processed in a sustainable manner and that the aim is to collect waste by fossil-free transport from 2023. From 2025, only emission-free logistics will be permitted in the city center of Groningen and for all RUG locations. This is in line with the mobility policy of the municipality of Groningen, whereby logistics in the city center must be emission-free from 2025.
---
Ambitions Sustainability Roadmap
➔ By the end of 2026, 95% of the total waste (hazardous and non-hazardous) will be
separated
➔ 15% reduction of the total waste in 2026 compared to 2019 (from 29 kg to 25 kg per
staff member/student)
➔ All residual waste circular by 2026
---
Example sustainable waste policy | Compactors
An example of a sustainable solution in the field of waste are the 'compactors' on the Zernike campus. These solar-powered waste compaction containers provide one hundred percent for their own energy needs. They compress the waste and can thus contain up to five times more waste than a normal waste bin. The increased capacity reduces the number of times the bin has to be emptied. This contributes to a reduction in CO2 emissions.
| | |
| --- | --- |
| Last modified: | 21 November 2023 1.58 p.m. |