Waste
Bij de RUG wegen we iedere kilo geproduceerd afval en worden de afvalstromen tot op gebouwdelen nauwkeurig in kaart gebracht. Dit is een waardevol instrument om te komen tot een verdere besparing op de geproduceerde hoeveelheid afval. Daarbij scheidt de universiteit het afval in 28 deelstromen en een deel van het restafval wordt ingezameld met een elektrische afvalauto.
Een ander voorbeeld hiervan zijn de 'compactors' op het Zerniketerrein. Deze op zonne-energie werkende afvalperscontainers voorzien voor honderd procent in hun eigen energiebehoefte. Ze persen het afval samen en kunnen zo tot vijf keer meer afval bevatten dan een gewone afvalbak. Door de verhoogde capaciteit vermindert het aantal keren dat de bak geleegd moet worden. Dat draagt bij aan een vermindering van de CO2-uitstoot en levert bovendien een besparing op van arbeidskosten.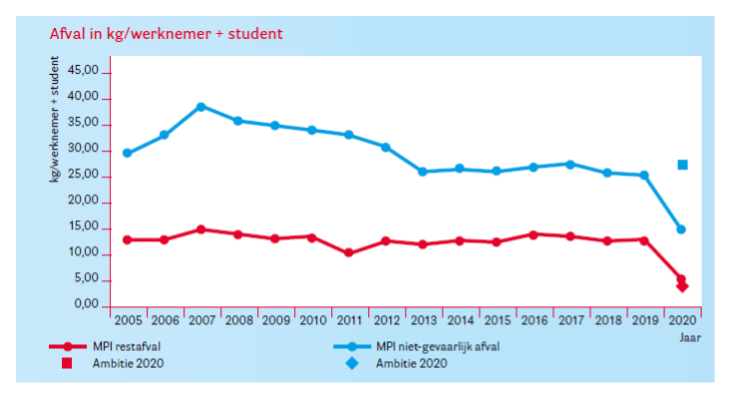 New developments
The University Services Department is working hard on a new European tender for residual substances management. To this end, we are working together with the Green Office. The goals for 2025 included in the new UG waste policy are: 95% waste separation by 2025 and a 15% reduction in the total amount of waste compared to 2020. This also means that we are striving to make all non-hazardous waste circular by 2025.
Hazardous waste
The UG has a specific policy regarding hazardous waste.
| | |
| --- | --- |
| Last modified: | 19 August 2021 12.04 p.m. |