Well-being

How can we ensure that students and staff enjoy learning and working at the University of Groningen? How can we teach students and staff to take responsibility for themselves and their working environment, and contribute to creating a safe, healthy, and inclusive study- and work environment? How can we help students and staff to maintain a healthy work-life balance? These are just a few of the urgent questions that universities currently struggle with.
---
There are many publications on high study- and workload, social safety problems, and (as a consequence) mental health problems (e.g. burnout) within academia. This has resulted in an increasingly loud call for a shift towards an academic culture that fosters positive health and wellbeing (e.g. Recognition & Reward, Diversity & Inclusion). We think that providing education can help to achieve this shift and will contribute to creating a safe, healthy, and inclusive study- and work environment within the University of Groningen.
The mission of this community is to create a breeding ground for educational knowledge and expertise that helps to foster positive health and wellbeing among students and staff at the UG. By bringing together teachers, researchers, trainers, and students from the different faculties and services and letting them share expertise, views, and practices, we can further develop our educational knowledge in the broad domain of wellbeing (including positive health, burnout, workload, and social safety), and create evidence informed educational interventions and provide educational policy advice to faculties and boards.
---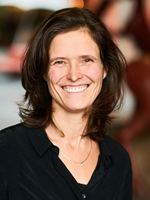 Joke Fleer - Community of Practice Leader
Prof. dr. Joke Fleer focuses in her research and education on themes surrounding well-being in the academic context. In 2019, together with Margreet Smit, she set up SCOPE, the UMCG expertise center for personal development. SCOPE develops evidence-informed, creative, and challenging education aimed at personal/professional development and stress management. Joke is also chairman of Aletta Education (part of Aletta Jacobs School of Public Health) within the University of Groningen, a member of the Recognition & Valuation committee, and a member of the Student Welfare Taskforce.
---
More information & participation
Do you have a question or would you like to actively participate in this community? Please contact community leader, Joke Fleer, through j.fleer rug.nl.
| | |
| --- | --- |
| Last modified: | 11 October 2023 11.48 a.m. |