A.I. in Education
The Community of Practice A.I in Education focuses on exploring the implications of artificial intelligence (AI) in education. Created in response to the enthusiastic reception of ChatGPT, this community aims to connect various initiatives within the RUG to investigate the challenges and opportunities of AI tools in education
---
The mission of the CoP: AI in Education is to create a network between the relevant stakeholders within the RUG (such as faculties, BoExs, schools, research groups and individual researchers, lecturers and education specialists) to collect, generate and spread information on the implications of AI for education.
The initial goals of the CoP: AI in Education are to
continuously monitor the further development of AI tools relevant for education,

analyze the challenges and opportunities these tools create for education,

collect and develop strategies to mitigate these challenges and use these opportunities,

communicate these strategies to the relevant stakeholders such as faculties, BoExs and individual teachers.

In particular, this will include
collecting best practices for incorporating AI tools into teaching

flagging assessment methods which can easily be completed with ChatGPT

proposing alternative assessment methods which cannot easily be completed with ChatGPT
---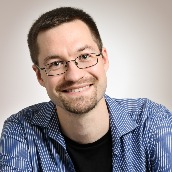 Benjamin Bewersdorf - Community of Practice Leader
Dr. Benjamin Bewersdorf is Lecturer at the University College Groningen where he teaches Philosophy, Decision Making, and Scientific Methods. He is passionate about innovating his teaching methods and likes to try out something new every year.
Ben is interested in interdisciplinary research about rationality as well as philosophical and scientific methods. At TAG, Ben's focus is to promote the use of blended teaching methods to support active learning among students.
---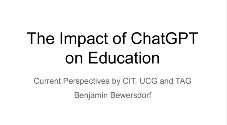 Presentation
Current perspectives of the impact of ChatGPT on Education.
| | |
| --- | --- |
| Last modified: | 23 March 2023 2.32 p.m. |