Von Stuckrad, Prof. Kocku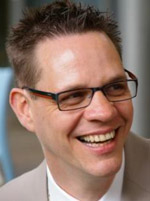 Kocku von Stuckrad (1966) is professor of Religious Studies. He is a specialist in the field of European history of religion, the history of astrology and the links between the philosophy of nature, natural sciences, esoterics and religion. He is also involved in the theory and methodology of studying religion. He is actively involved in many international research groups, he holds organizational positions within the American Academy of Religion, is secretary of the Nederlands Genootschap voor Godsdienstwetenschap [Netherlands Society for Religious Studies] and chair of the International Society for the Study of Religion, Nature and Culture.
'You can't study religion in isolation', is Von Stuckrad's motto. 'What we refer to as "religion" is a discursive matter whereby natural science, philosophy, language, politics, law, art, economics and other cultural factors are all closely interwoven'. He is thus particularly interested in the transitions between the systems, in the transfers between religious traditions and in the important function played by alternatives when forming a religious identity.
Previously in the news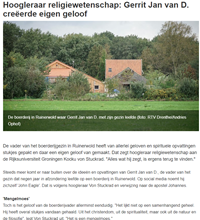 Contact and further information
Publications
| | |
| --- | --- |
| Last modified: | 09 June 2023 8.36 p.m. |