Poolman, Prof. Bert
B
ert Poolman was trained in bioenergetics and microbiology and moved to biochemistry and biophysics in later years. Central questions in his research are: How do molecules permeate biological membranes and how can one control solute fluxes? Throughout his career, he has made seminal contributions to the understanding of the dynamics and permeability of biological membranes and to the field of vectorial biochemistry, i.e. the role of electrochemical gradients in the fuelling and regulation of membrane transport. Poolman has a leading record in the energetics of membrane transport and cellular osmoregulation as well as the development of innovative technologies in membrane reconstitution. He has advanced the field of ATP-binding cassette (ABC) transporters, one of the largest known protein families, by combining functional and structural studies.
Bert Poolman is scientific director of the Groningen Biomolecular Sciences and Biotechnology Institute, and he is program director of the Centre for Synthetic Biology. He has published over 270 articles in international peer-refereed scientific journals and supervised about 50 PhD students. He is ISI highly-cited researcher and member of the Faculty 1000 board. Poolman has been a member of the Royal Dutch Academy of Arts and Sciences (KNAW) since 2009.
In April 2015 Poolman was awarded a European ERC Advanced Grant of 2,5 million euros for his project 'ABCVolume: The ABC of Cell Volume Regulation'.
Previously in the news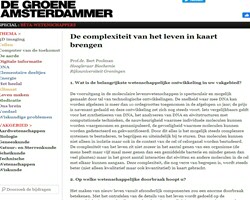 | | |
| --- | --- |
| Last modified: | 10 June 2022 10.57 a.m. |