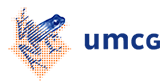 Central Animal Facility
The Central Animal Facility (CDP) is a facility service of the UMCG (sector F) where research involving experimental animals is conducted. The CDP supports and facilitates research and education projects involving experimental animals.
Prior to the start of any animal experiment within the CDP, permission is required from the Animal Ethical Committee (DEC).
Detailed information regarding animal experiments within the CDP can be found at the restricted area of the CDP-website.
This restricted area is only accessible for employees of the UMCG and other RUG-employees. You can obtain an account by filling out the web form.
After confirmation by email, you will get permission to access the website as soon as possible using your employee-/student number in combination with your Novell password. Then, an extra menu becomes visible, the "CDP-Intranet".
You can login here or at the right upper corner in the regular UMCG-menu trough the login page
With this application, you declare to subordinate to the user terms.
| | |
| --- | --- |
| Last modified: | 29 November 2017 09.41 a.m. |