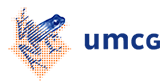 Restauratieve voorzieningen
Even bijkomen met een kop koffie of een moment van rust inlassen tussen de bedrijven door? Dat kan in een van de twee kantines die het gebouw rijk is. Het Onderwijscentrum van het UMCG verzorgt voor u de koffie en thee bij de vergadering, de borrels en diners, en natuurlijk de dagelijkse lunch....
Bestellen van catering bij uw vergadering of andere bijeenkomst kunt u doen op de speciale intranetsite van het UMCG (Als u wordt gevraagd om een inlognaam en password, zijn dat dezelfde als waarmee u uw eigen Computer opstart).
U kunt geen catering aanvragen via de medewerkers van de kantine.
Het UMCG sluit graag aan bij uw wensen. Mocht u vragen of opmerkingen over onze dienstverlening hebben, dan horen wij die graag van u. U kunt reageren via het reactieformulier op de intranetsite.
| | |
| --- | --- |
| Laatst gewijzigd: | 19 januari 2015 16:23 |