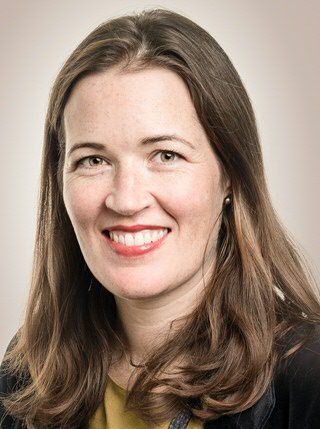 Name:

Marian Counihan
Nationality:

South African / Irish
Qualifications:

BSc (Hons) in Mathematics, MSc In Logic, PhD in Philosophy
What you'll teach at University College Groningen:

R&M Introduction to Critical Thinking and Logic, Understanding Bias, Atlas of City Stories
Marian has a broad academic background, with a bachelors degree in mathematics with a minor in philosophy, a masters degree in logic at the University of Amsterdam, followed by a PhD in philosophy/cognitive psychology, also at the UvA. Marian's teaching is similarly broad. At UCG she teaches courses which deal with critical thinking, bias, and (qualitative) research methods. Alongside her position at UCG she develops and gives workshop to PhD students across the university on the topic of inclusion and empowerment. Marian also runs her own bureau for interdisciplinary research and projects. Here she partners with the university and municipality on initiatives such as City Central, a new hub for international Groningen. Originally from South Africa, Marian now splits her time between Groningen and Amsterdam, and maintains strong ties with her home country.
Research:
Marian's research has been concerned with the development of logical reasoning ability and its relation to culture and educational context.
Personal Information:
My favourite food is…
Avocado and chocolate (not at the same time!)
My favourite thing about Groningen is…
Its size, ease of biking, and doing groceries at the Vismarkt
My favourite place in the world is…
Probably Cape Town
Something most people don't know about me is…
That when I'm an old lady I plan to become a florist
My biggest achievement is…
My PhD and creating a good life here in the Netherlands after leaving South Africa
When I'm not working…
I'm at my other job, or spending time with family and friends, nearby or far away.
My inspirations are...
People. Everyone has something inspiring about them, but I am especially drawn those who joyfully and successfully carve their own individual paths through life.
More about dr. Marian Counihan
| | |
| --- | --- |
| Laatst gewijzigd: | 12 februari 2019 14:42 |