The interior of the medieval village church / Het middeleeuwse dorpskerkinterieur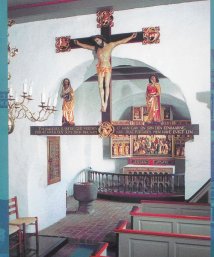 In dit tweetalige boek van Justin Kroesen en Regnerus Steensma staat de inrichting van middeleeuwse dorpskerken in West-Europa centraal. Het boek begint met een overzicht van verschillende gebouwtypen en van muur- en gewelfschilderingen, om vervolgens in te gaan op veertien inrichtingsstukken. Aan de orde komen onder meer het altaarretabel, het sacramentshuis, het doksaal, de preekstoel, zitbanken, de doopvont en het orgel. Het boek besluit met een overzicht van de lotgevallen van het meubilair in de verschillende landen van Europa sinds de Middeleeuwen. Steeds is de algemene lijn met vele voorbeelden in dorpskerken geïllustreerd. In het boek zijn bijna 600 kleurenfoto's van de hand van de beide auteurs opgenomen.
Het boek kost 90 euro en is te koop in de boekhandel of te bestellen via www.peeters-leuven.be (ISBN 90-429-1540-4).
Interview met de makers van het boek uit het Dagblad van het Noorden
| | |
| --- | --- |
| Laatst gewijzigd: | 14 juni 2023 15:43 |