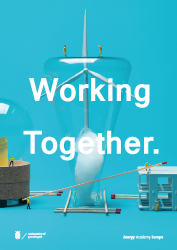 University of Groningen
Energy raises key scientific and social challenges. The University of Groningen has made energy one of its three main research themes and makes major contributions to the transition to sustainable production and consumption of energy .
Energy and Sustainability Research Institute Groningen
The Energy and Sustainability Research Institute Groningen (ESRIG) wants to contribute to a world-wide energy supply for the next century, for more people in a sustainable way, by research and education.
Energy supply and energy conversion: sustainable role of bio-fuels, also in connection to food and land use, energy transition (IVEM), second (and later) generation bio fuel research (CRE, MP, OE); Organic Solar Cells (BMD), determination and monitoring of bio-fuel admixtures (CIO), natural gas and new gas mixture combustion research (VB), innovative production methods for fossil fuels, underground coal gasification, geothermal energy (GE), gas transition, hydrogen as energy carrier (VB, IVEM) and (de-central) electricity production control design (PA).
Transition towards Sustainability: Carbon cycle and greenhouse gases research, CO2 emission monitoring, CO2 storage surveillance (CIO), CO2 storage in relation to underground characteristics (GE), combustion efficiency and harmful emission reduction (VB), development and evaluation of (inter)national climate policies, societal and ethical context of scientific/technical transitions towards sustainability (IVEM, SSG).

Hanze University of Applied Sciences
​​Hanze University of Applied Sciences (Hanze UAS) is a leader in research into renewable energy. It is one of the universities of applied sciences where students from various disciplines are trained in energy education and are involved in research into energy matters. Over the past few years, applied research into sustainable energy, including the use of bio-gas, has grown exponentially. This has resulted, among other things, in the new concept of smart grids and about two hundred graduation projects.

Energy Academy Europe
The Energy Academy Europe provides education, conducts research and fosters innovation in the field of energy while working towards the transition to a sustainable energy future. Our cooperation with top quality educational and research institutes and our vast network within the energy industry ensure that all EAE programmes are relevant to the energy sector and at the cutting edge of energy technology.
Initially, the main themes will be renewables (wind, solar, bio-based, energy storage, etc.), gas (including biogas and green gas), smart grids, energy efficiency (including the nexus energy-water-food) and CO2 reduction (CO2-capture and –storage, emissions trading, etc.).
To achieve this goal, the EAE seeks the commitment and support of companies with knowledge and experience of these themes that want to contribute to the transition to a sustainable energy future.

Energy Delta Institute
Energy Delta Institute (EDI) is an international energy business school. Through a rich variety of energy training courses and networking activities we prepare energy professionals for challenges they face in their dynamic environment. EDI was founded in 2002 by GasTerra B.V., N.V. Nederlandse Gasunie, OAO Gazprom, Shell and the University of Groningen, later joined by A.Hak and EBN. The energy community has come to appreciate EDI both as a platform of energy knowledge exchange between partners and participants alike. The changing energy world is forcing energy companies to innovate in order to stay competitive. In addition, the energy sector is confronting the possibility of a growing shortage of qualified personnel in the coming decades. The sector has only one choice: to invest in knowledge. Our energy training programmes and events respond to this urgent need, and focus on the economic, management, legal and geopolitical aspects of energy business.

Energy Valley
Energy Valley's mission is to encourage, incite, facilitate and connect companies, knowledge institutes and government bodies to develop projects together and make real progress in clean, reliable and innovative energy.
By building on our existing knowledge, infrastructure and economic activity in the Northern Netherlands, Energy Valley intends to continue to lead the transition to a future-proof energy supply. By further expanding employment and the knowledge economy, Energy Valley aims to reinforce the Northern Netherlands' position in the energy sector and aspires to grow it into a trend-setting "Energy Valley region" within Europe. www.energyvalley.nl
____________________________
Groundbreaking Work
@University of Groningen
| | |
| --- | --- |
| Last modified: | 14 August 2015 09.48 a.m. |