Zernikelaan
The Zernike Campus Groningen is set for redevelopment in the next few years. Within the framework of the 'Groningen Agreement' (Akkoord van Groningen), the Municipality of Groningen, the University of Groningen and the Hanze UAS Groningen want to make their wide- ranging ambitions for the innovative campus more concrete. Last Wednesday, the administrators, Alderman Roeland van der Schaaf (Municipality of Groningen), Jan de Jeu (Vice-President of the Board of the University of Groningen) and Henk Pijlman (chairman of the Board of the Hanze UAS Groningen), signed a Collaboration Agreement.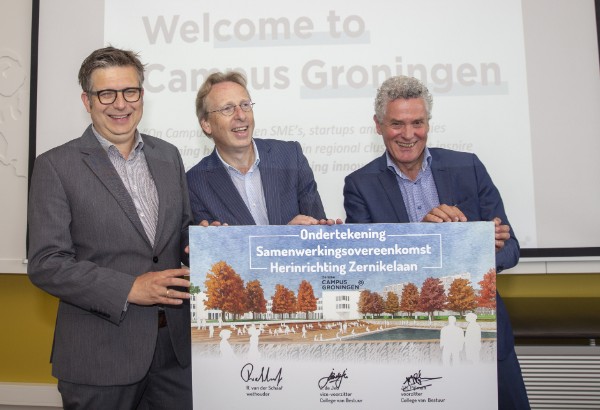 The plan (see previous article )is a giant step en route to a campus with allure, that dovetails with the significance of this area for the city. Thousands of students and staff together form a daily education and business community of huge economic significance. This investment will increase traffic safety and enhance the atmosphere. The area as a whole will be more accessible and attractive, thus boosting employment opportunities.
The plans include the redesign of the Zernikelaan and a link between the northern ring road and the Zonnelaan. The Penningsdijk bicycle path will also be laid this year. These projects will adapt the spatial structure in such a way that the business park in the north and the educational part in the south of Zernike will form a coherent whole. The Mayor and Aldermen will apply for a loan of over € 13.6 million from the Council. The University of Groningen and the Hanze UAS Groningen will also contribute € 8.4 million.
New traffic measures on the Zernikelaan will improve cycling safety while promoting smooth passage for cars. There will also be separate bus, car and bicycle lanes and a footpath, each separated by greenery.
The Zernike promenade will become a wide park alongside the lake, the bus lane and the road. The trees, both older and newly planted, and the bicycle and footpaths will create an unbroken, attractive 1600 metre-long belt across the campus. The area next to the Duisenberg Lake will form the new green heart of the campus.
The work is currently scheduled to start in the first quarter of 2019 and be completed in 2022. The work will naturally be planned in close consultation with the campus users, so that nuisance for students, staff and visitors is limited as much as possible.
| | |
| --- | --- |
| Last modified: | 01 March 2021 11.04 a.m. |