Sustainable solutions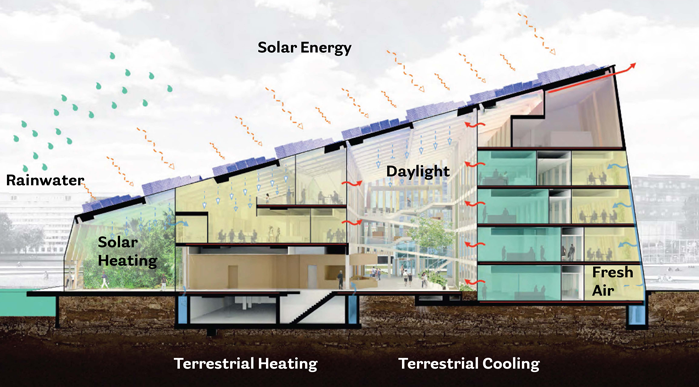 This building is going to be an icon of sustainability. Its smart design will reduce energy consumption and, moreover, enable it to produce more energy than it consumes. As a result, the design has the highest BREAAM-NL rating – 'Outstanding' – indicating that it meets exceptionally high sustainability standards. It will be without equal among education-related buildings in the Netherlands.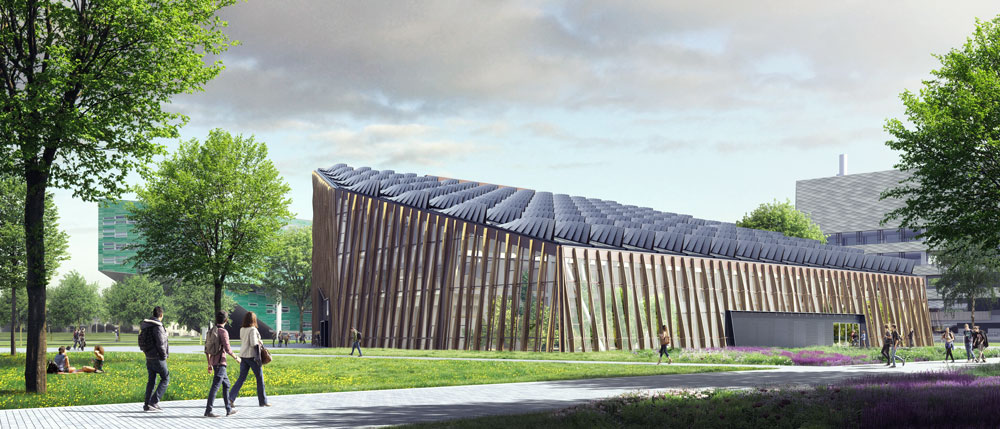 ✔ Zero emissions (after 40 years, incl. construction)
✔ BREEAM-NL Outstanding (the only education-related building with this rating in the Netherlands)
✔ EPC = 0 or less
✔ 51 kWh/m2 per year (which is extremely low for an education-related building)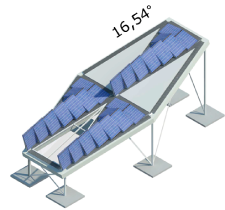 In order to meet these challenging energy performance standards:
↓ use of mechanical installations must be kept to a minimum
↓ energy consumption must be kept to a minimum
↑ maximum use must be made of natural energy
Extraordinary
energy roof
In order to achieve these highly ambitious sustainability objectives, the building has an unusual design with a large, slanted solar panel roof of approximately 4,000 m2. The roof, facing south for optimum performance, will be fitted with around 2,000 solar panels.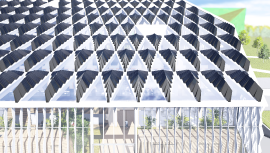 The panels will be arranged in triangles (133 in total) so that they cover 100% of the roof surface. At the same time, the design allows daylight to pass through, making it effectively a 150% energy roof.
The façade also allows daylight in, while its wooden fins prevent the building from heating up too much in the sun. These features provide the building's outer shell with excellent insulation, keeping both heat and cold outside and protecting against sunlight if necessary.
Such a striking exterior leaves no room for doubt: the building is a place with innovative energy efficiency.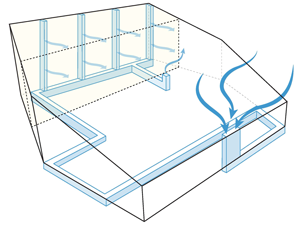 Natural ventilation
In order to make use of natural ventilation, staff should keep their windows open as much as possible. Another, more unusual way of heating or cooling air inside the building takes place in the underground labyrinth. This 200-meter-long air duct heats or cools air from outside with geothermal energy, providing a pleasant indoor climate without the need for mechanical ventilation. The fresh air is distributed through large air ducts, corridors and the atrium.
The building does not have to rely on natural ventilation alone, however; if the weather conditions are not good enough, the mechanical ventilation system will step in. This hybrid ventilation system ensures a pleasant working climate at all times.
Solar chimney
The north side (the highest point of the building) will sport a solar chimney, which stimulates the airflow using solar energy. The chimney also controls the flow of the return air out of the building.
Underfloor heating: concrete core activation
In addition, the building will be heated and cooled through concrete core activation. Long pipes, installed underneath the floors, transfer heat or cold to the floor surface. This, too, contributes to a comfortable indoor climate.
Thermal energy storage
The concrete core activation system goes hand in hand with thermal energy storage (TES). A deep well will be dug near the building, which – just like the labyrinth – will use geothermal energy to keep the building at a comfortable temperature.
Precipitation
Rainwater will be collected in a grey water tank and used to flush toilets.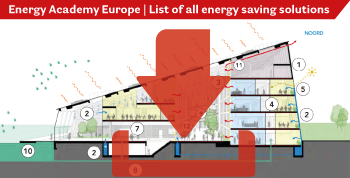 ____________________________
Groundbreaking Work
@University of Groningen
| | |
| --- | --- |
| Last modified: | 11 October 2019 10.55 a.m. |