Hetty Zock bijzonder hoogleraar Levensbeschouwing en geestelijke volksgezondheid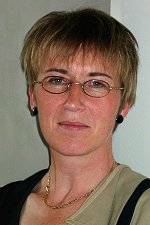 Hetty Zock is per november 2005 benoemd tot bijzonder hoogleraar Levensbeschouwing en geestelijke volksgezondheid, met bijzondere aandacht voor het domein van de geestelijke verzorging. Dit is een nieuwe leerstoel bij de Faculteit der Godgeleerdheid en Godsdienstwetenschap van de RUG vanwege de Stichting Katholiek Studiecentrum voor Geestelijke Volksgezondheid (KSGV) met steun van de Vereniging van Vrijzinnige Protestanten in Nederland (VVP). Het KSGV beoogt met deze leerstoel een extra concretisering van zijn steven: het bevorderen van een geestelijk gezonde omgang met levensbeschouwing en zingeving.
Zock heeft veel onderzoek verricht op het terrein van identiteit, zingeving en verbeelding in de godsdienstpsychologie. Daarbij zijn de relationele psychoanalyse, identiteitstheorieën en analyse van hedendaagse literatuur (Harry Potter) haar specialiteiten. Zock was als opleidingscoördinator al het 'gezicht' van de master Geestelijke Verzorging.
Hetty Zock (Schiedam, 1957) studeerde theologie en volgde daarna de Kerkelijke Opleiding in Leiden. In die periode was zij tevens student-assistent en pastoraal medewerker voor de jeugd in de Duinzichtkerk te Den Haag. Na afronding van haar studie theologie werkte Zock als wetenschappelijk assistent bij de Universiteit Leiden (1985-1989). In 1986 werd zij tevens pastoraal medewerker van de Vereniging van Vrijzinnige Hervormden te Leiden / Oegstgeest en in 1989 predikant van de Buitengewone Wijkgemeente der Vrijzinnige Hervormden te Delft. In 1990 promoveerde Zock in Leiden op de dissertatie A psychology of ultimate concern. Erik H. Erikson's contribution to the psychology of religion. Twee jaar later werd zij er universitair docent Godsdienstpsychologie. Sinds 1999 bekleedde zij deze functie bij de RUG. Zock is tot slot redacteur van het Nederlands Theologisch Tijdschrift en bestuurslid van de International Association for the Psychology of Religion /KN.
Enkele publicaties:
A Psychology of Ultimate Concern. Erik H. Erikson's Contribution to the Psychology of Religion (2004/19901), Religie in de psychiatrie (redactie, met Gerrit Glas, 2001), Trends in de Groninger theologie: 'You need a busload of faith to get by' (redactie, met Ed Noort, 2002), De geestelijk verzorger in beeld. Tegenstrijdige opvattingen en verwachtingen (2005)
| | |
| --- | --- |
| Laatst gewijzigd: | 24 oktober 2021 22:02 |