Arrival in Groningen: Checklist
| | |
| --- | --- |
| Date: | 26 August 2020 |
| Author: | Ariana |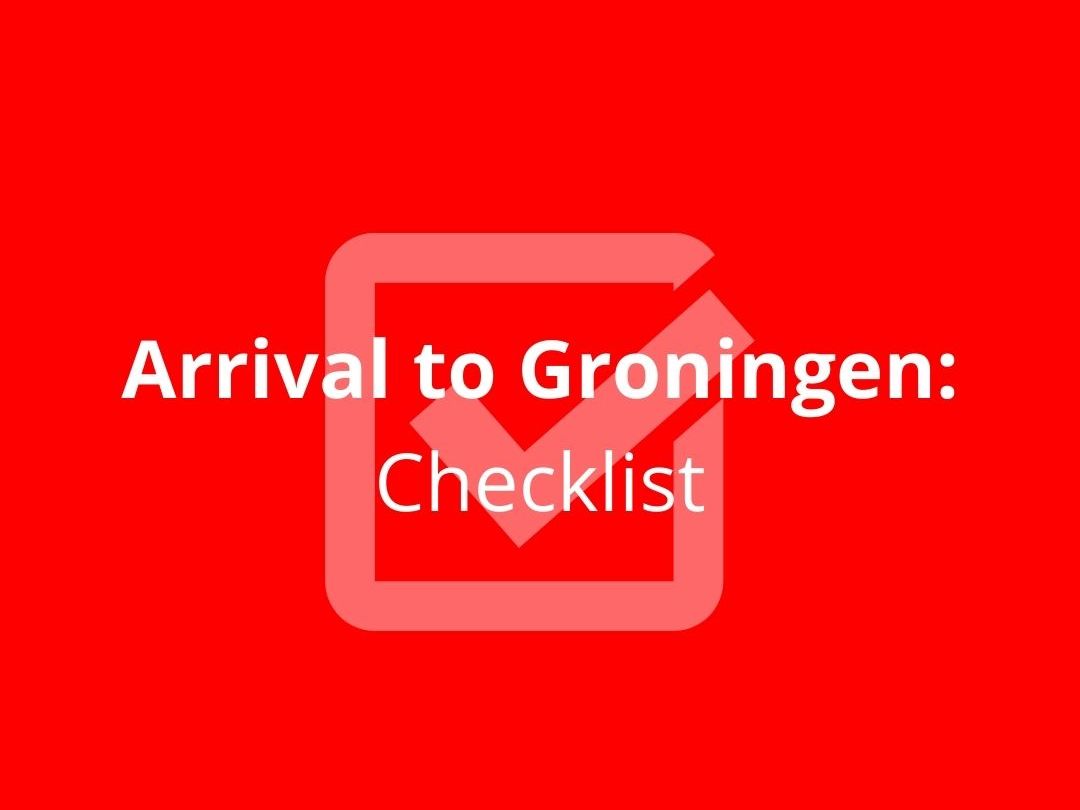 What to do when arriving in Groningen?

Step 1: Arrival in Groningen.
Welcome! You've now arrived in the best student city in the Netherlands. Over your study period here, Groningen will become your new home so here's how to get settled:
Get home, settle in!
If you've arrived from a country with a red or orange travel advisory, you are required to self-quarantine for 10 days. In the meantime, you can still get a head start on most of the things listed in the steps below, as they require you to make an appointment beforehand, or can it be done completely online.
Get your room ready
If you're living in a student accommodation, you might already have the basic furniture (such as a bed, closet, desk, etc.). However, if you'd like to purchase more furniture, you can get items delivered at your place of residence from IKEA or HEMA.
Secure some meals
If you'll be in self-quarantine for 10 days, you can ask an ESN volunteer to bring you groceries. Otherwise, there are also plenty of food delivery services, such as UberEats, Thuisbezorgd, and FoodDrop.
Step 2: Register yourself
Once you arrive in Groningen, it's important that you get a few formalities done. Please note that it is against the government advice to break your self-quarantine for any of the formalities below , but perhaps you can get a head start by making your appointments early.
Pick up your residence permit
Once your residence permit is ready, the ISD will email you with indications as to when and where you can pick it up. If you still need to make an appointment, shoot them an email at isd rug.nl
Make an appointment to pick up your student card
To pick up your student card, wait for an email stating that your card is ready. Right after, you can make an appointment to pick up your student card here.
Register with the municipality
If you're planning to study in Groningen for more than 4 months, you must register with the municipality. Here, you'll also receive your BSN (Citizen Service Number), which you will need for other things such as opening a bank account. You can make an appointment via the municipality's website, which also has all the info you need about the registration process.
Create a bank account
There are various banks in the Netherlands with which you can create a bank account. You can find more information about banks and the process of opening a Dutch bank account here.
Pay your tuition fees before Aug. 31st (EU/EEA students only)
Make sure that you have indicated your method of payment via Studielink first. If you have chosen a direct debit option, this will be debited from your account automatically. However, if you've chosen to pay via Tikkie or installments, make sure you pay these accordingly.


Claim your sufficient funds back (non-EU/EEA students only)
As soon as you have arrived in the Netherlands and opened a Dutch bank account, you can submit your online reclaim form for the refund of the sufficient funds you transferred. The ISD will send you a link to the online form soon after your arrival.
Make sure you have a valid health insurance
If you're an EU/EEA student, please make sure that you have valid health insurance. If you're a non-EU/EEA student, you can get a good deal for student insurance with AON.
Step 3: Student Life
Attend the Opening of the Academic Year
The official opening of the UG's Academic Year 2020-2021 will take place on Monday 31 August. It will be streamed online via Youtube, and you can find all the info about it here.
Sign up for the ESN Introduction Week
Since the start of the new academic year will be drastically different this year, the best way to meet other international and local students is during the ESN Introduction Week. Their programme will be hybrid, meaning that even if you can't attend any physical events due to self-quarantine measures, you'll still be able to join online. Register here.
Check out the different student associations
Groningen is full of student associations: culturally, academically, politically, internationally and sports-oriented. While you're spending your days at home, make sure to check them out!
Get a bike
There are many places where you can get a bike in Groningen. Most students prefer to buy a second-hand bike to cut costs. These you can find online on places like Marktplaats or Facebook, or at bike shops around town. However, if you want a Swapfiets, you can make an account online and arrange for a date to pick up your bike later, or have it delivered to you.
Get an OV card
OV-Chipkaart is the public transport card in the Netherlands. You can use it for trains, trams, and buses. While you can get an anonymous OV card at the station, you can also get a personal one online (allowing you to do things like add discounts or sign up to be able to hire public transport bikes). It will arrive by mail.
Join ACLO or get a gym membership
Students in the Netherlands live a very active lifestyle. If you'd like to join in, you might want to consider joining ACLO, the largest student sports association in the Netherlands, which also houses all the different student sports clubs. Alternatively, you can also get a gym membership at any of the other gyms across the city.
Log in to Eduroam
Eduroam is the university's wifi network. Not only will it grant you access to a wifi connection across all university buildings, but it will also keep you connected at special spots in the city (such as the Grote Markt). To log in, use your student email address and password.
Step 4: Get to know Groningen
Become a Virtual Groninger
Even if you're at home, you can still get to know Groningen virtually with this game. In this game, you can already experience what it is like to be a student in Groningen. A new level is released every week!
Try out some Dutch food
This is almost an imperative step for every international who arrives in Groningen. Enjoy your time trying out all the different Dutch foods! Don't miss out on buying haring and stroopwafels from the market, fried snacks from a wall in the city center, and trying out stamppot.
Visit the city center
Once your self-quarantine period is over, head over to the city center and walk around. The inner city is quite small, meaning that it's easily walkable. You'll encounter plenty of restaurants, shops, and charming streets that give Groningen it's life.
Get a view of the city from the Forum rooftop
While you're at the city center, make sure to stop by the Forum and check out the view of the city from the rooftop. You'll get the best view of the Martinitower, and spectacular 360° views of Groningen as well! Tip: if the afternoon is sunny, make sure to go check out the sunset.
Read our student blogs
Missing some inspiration? Want to know more about Groningen, the UG, and the student life? Take a look at our other student blogs.
Step 5: Important Contacts
Listed below are some important contacts you should get familiarized with, and you should keep around in case you need them.
Student Information and Administration (SIA)
Immigration Service Desk (ISD)
Student Arts (General Practitioners, Psychologists).
ESN Grocery Buddies
Step 6: We hope you've settled in and gotten to know the city. Have a great academic year!
If you have any questions, feel free to contact us at prospectives@rug.nl
About the author
Ariana
Hey! I'm Ariana and I'm a Costa Rican student with a passion for photography, dancing, and cute dogs. Aside from writing blogs, I'm doing my Bachelor's in Media Studies. If you see me around smiling at my phone, I'm probably looking at memes (or cute dogs).
Comments