Academy Building
The Academy Building, built in the style of the northern Dutch Renaissance, is the main building of the University of Groningen. It is the place where all university ceremonies take place and where the ten faculties each have their own faculty rooms.
The current Academy Building dates from 1909. It was built on the foundations of the older building and designed by state architect J. A. Vrijman. The building was thoroughly renovated in 2007/2008.

First Academy Building
The first Academy Building (1614), was designed by the architect Garwer Peters. It was a simple, low building, originally a convent, which was torn down in 1846 because of the poor state it was in. The decorations above the current entrance of the Academy building were inspired by the gate in the middle of the first Academy building as shown in the illustration.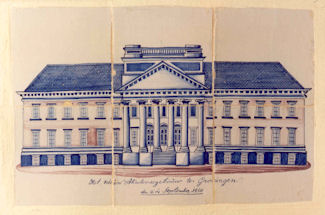 Second Academy Building
Since the central government did not want to pay for a new building, the second Academy Building was founded with money collected from the city and the province four years later. In 1906 however, a fire caused a great deal of damage. Despite the fire burning the entire building down, several important items were saved from the fire by the Groninger inhabitants. These included the portraits of professors and the standard of de Vrijwillige Studenten Flankeurs from 1830 (these volunteers were members of the student Vindicat atque Polit, who fought in the battle against the Belgian insurgents). The original standard can still be seen in the hallway on the first floor opposite the faculty chamber of Law.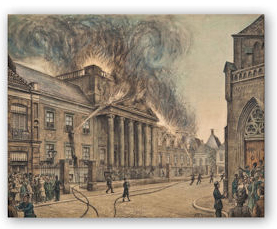 Current Academy Building
The third, and current, Academy Building was rapidly designed after the fire. It has three façades. Under the middle façade is the goddess Minerva as the goddess of science, between the university coat of arms and the Dutch lion. Left of her is Scientia and Historia is on her right. Prudentia is in the left façade and in the right façade is Mathematica. On the left side of the building you will find the tower with a carillon and a clock, donated by the Groningen citizenry.
Source: this text has been partially taken over from Wikipedia (license CC-BY-SA).
| | |
| --- | --- |
| Last modified: | 14 June 2019 2.44 p.m. |