Starting Grants
Dr. Andrey Baryshev
Dr. Andrey Baryshev uses the ERC grant to develop Microwave Kinetic Inductance Detectors (KIDs). Baryshev, is working on the development of new detectors, for both space telescopes and ground-based telescopes. His work includes the technology for the band 9 detectors of ALMA (Atacama Large Millimeter Array), the new submillimeter telescope being constructed in Northern Chile.
KIDs are super-sensitive radiation detectors that operate at extremely low temperatures, just a tenth of a degree above absolute zero. It is relatively simple to include several pixels with KID detectors. This is a major advantage as then it takes less time to produce the best possible detailed image of objects of astronomical interest. These detectors are being developed especially for application in the next generation of far-infrared space telescopes, all of whose optics are actively cooled. These are so sensitive that radiation from the darkest corners of the Universe can be measured.
Profile page of Dr. Andrey Baryshev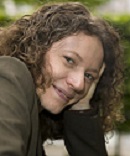 Dynamical imprints of the evolutionary history of the Milky Way
The aim of the ERC project is to provide a comprehensive view of the dynamical imprints leftover from the Galaxy's evolutionary history, including establishing: How much memory does a galaxy like the Milky Way retain of its past? and What was the merging history of the Galaxy? To this end we will use the largest ever cosmological simulations of a Milky Way dark matter halo and the RAVE spectroscopic survey that is mapping of the Solar vicinity. This will enable us to be in prime position to exploit the first Gaia data release, and before the end of this Research Program, to harvest its key scientific goal, namely to unravel the assembly history of the Milky Way.
Profile page of Prof. Amina Helmi
Prof. Poelarends' research concentrates on the development of a new biosynthesis procedure that can be used to manufacture drugs. This procedure makes use of promiscuous tautomerases, enzymes that have extraordinary catalytic properties due to their unique structure.
Profile page of Prof. Gerrit Jan Poelarends
Prof. Dr. Andreas Herrmann
DNA Block Copolymers: New Architectures and Applications
| | |
| --- | --- |
| Laatst gewijzigd: | 03 september 2019 16:20 |