Services and support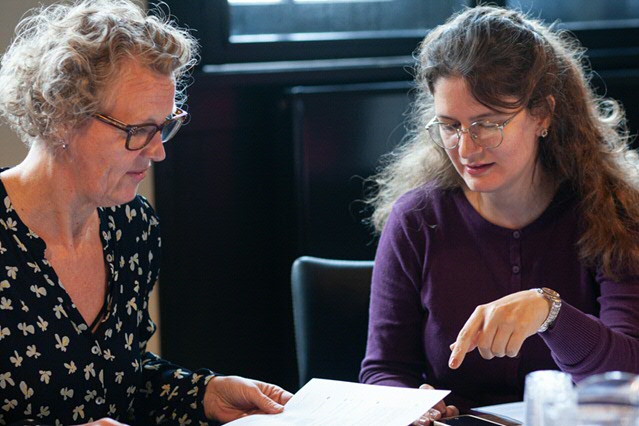 DCS offers a variety of services and support for its registered member participants. Please click on the drop down menu to see the full list.
Partner support services
SPR (staff sport association)
During your first year after your arrival in Groningen, you have the opportunity to take part in the SPR staff sport association at a staff rate. You can participate for a maximum of one year. For SPR membership: Please fill out the form on the website of SPR and mention that you are a partner of staff.
Language classes at UG
DCS members are entitled to receive a 10% discount on the fees of the Dutch language classes of RUG Talencentrum. To receive the discount, please contact us.
Volunteering opportunities/UG Experience positions
DCS helps partners and spouses who are interested in gaining Dutch work experience to find volunteering opportunities within the UG. These volunteering opportunities are called UG experience positions. These experience positions can be made available based on your professional background and needs of a specific department at the UG.
Individual career support
If your spouse or partner is on a contract for more than 2 years with UG, you are eligible for individual career guidance. This service is unfortunately not available for spouses/partners of PhD candidates. However, we offer individual advice on CV and motivation letters and provide assistance in the job interview preparation to those who regularly attend our career workshops.
Update on latest developments
You will be informed about the latest developments in regards to our services and offers. We also will inform you about the vacancies within and outside of UG that are suitable to your background and career ambitions.
Buddy support
We all know that relocating to another country and finding your way around isn't always an easy task. This is why DCS offers buddy support for our newcomers to find answers to their questions and challenges they face by connecting newcomers to our member partners who have lived in the Netherlands and Groningen more than 2 years and who are keen on sharing their experiences. Would you like us to find you a buddy? After your registration, you may sign up for an orientation meeting with one of our advisers. Based on the information provided during the meeting, the adviser will connect you with a buddy.
Public Library
A one-year free membership of the Public Library is possible! Send an email with the subject 'free membership Public Library' to us and attach a copy of your ID-card.
Helpful services at UG
The HR Information Desk
HR Information Desk can help you with university related questions. See Practical Matters if you have questions about administrative issues you have to deal with as incoming family of UG staff, such as visa, residence permits, registration at Groningen City Hall, obtaining a citizen service number (BSN), bank affairs, health insurance, finding housing, taxes and so on.
Connect International
In order to make your move to the Netherlands as easy as possible, (salaried) newcomers from abroad are offered a year-long Connect International membership for free. The UG also offers two hours of personal advice for free to its newly hired staff and this you wil find in the employment contract. However, this does not include search of housing.
Immigration Service Desk
The ISD can help you with visa and residence permits.
Career Services
Career Services advises students, graduates and alumni of the University of Groningen on career issues. They offer interesting workshops and provide useful tips and/or factsheets on job search, self knowledge, personal branding, entrepreneurship, LinkedIn, CV, application letters, job interviews and job negotiations. Their factsheets are also available at their venue, located at the corner of Oude Kijk in 't Jatstraat 19, near the Academy building.
University Newspaper (UK)
The UK is the independent newspaper of the UG, bringing you the daily news and articles on things that matter to the university staff and students, in both Dutch and English.
Services and information outside of UG
International Welcome Center North (IWCN)
IWCN is a one-stop shop for internationals. They offer international UG-staff and other expats help with government formalities, information, and social activities.
Connect International
Connect International provides practical information to familiarize international residents with all aspects of living, working or studying in the Northern Netherlands. Organizes events and activities to facilitate making further connections, and offers quality relocation services. All new international members of staff (appointed after 1-1-2016) are eligible for a one-year free membership of Connect International and two hours of free advice.
Internations
This is a private network that helps you to settle in easily when moving to or living abroad in Groningen. They also organize social events, give information and tips about expat life in the Netherlands.
Humanitas
Humanitas volunteers provide social support and help in learning the language.
The Municipality
The Municipality website provides essential information for newcomers.
Dutch Government Immigration
Take a look at the government site in relation to immigration.
Groningen.nl
Groningen.nl intends to help new and current residents to find their way in Groningen.
City Central
City Central connects new residents to local life to help them to integrate, contribute and feel at home.
Metis
Metis is an organization for women growing together through meaningful projects and activities.
The Northern Times
The Northern Times posts the actual news from Groningen, Drenthe and Fryslân in English.
VisitGroningen.nl
As the name suggests, VisitGroningen helps you and your family to plan and to have the perfect stay in the city of Groningen and the province as a whole.
SPOT
Ticket booking for concerts and performances.
The Netherlands and you
This is a website for all Dutch representations worldwide.
JustLanded
JustLanded covers topics like visas, housing, jobs and finance.
I am expat
I am expat provides a variety of topics of interest and services for expats.
Expatica
Expatica is an expat guide to the Netherlands.
Welcome to the Netherlands
Would you like to learn more about working en living in the Netherlands?
| | |
| --- | --- |
| Last modified: | 07 July 2022 4.29 p.m. |