Rudi Drent chair for Prof. dr. Theunis Piersma (2018)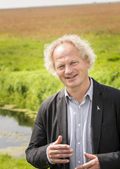 The Faculty of Science and Engineering has honoured Prof. dr. Theunis Piersma by appointing him on the Rudi Drent chair. The named chair recognizes the excellence of the professor.
Theunis Piersma
Theunis Piersma is professor of Global Flyway Ecology at the Groningen Institute for Evolutionary Life Sciences (Faculty of Science and Engineering, UG) and Senior Research Scientist at the NIOZ Royal Netherlands Institute for Sea Research Department of Coastal Systems. He has received numerous awards in recognition of his scientific work on migration, ecology and evolution of birds and other taxa such as the prestigious Marsh Award for International Ornithology in 2017. In 2003, he was appointed professor of Animal Ecology and in 2012 he was appointed to the chair in Global Flyway Ecology, sponsored by a collaboration between the University of Groningen, the Worldwide Fund for Nature and the Dutch national BirdLife association. He will now exchange this chair for the Rudi Drent chair in Global Flyway Ecology. In 2014, Piersma was awarded the Spinoza Prize, the highest academic award in the Netherlands. Piersma studied biology at the University of Groningen and was Rudi Drent's PhD student.
Rudi Drent
Rudi Drent (1937-2008), who gave his name to the chair, was a renowned Dutch ecologist and ornithologist. He grew up in Los Angeles but came to the Netherlands in 1962 to obtain his doctorate. He returned to Groningen in 1972 as a lector in Animal Ecology and in 1983 he was appointed full professor. Drent was the driving force in Dutch ornithology. Not only through his research – he supervised more than 60 PhD students and he co-published with Prof. Serge Daan on parental investment which is still one of the highest cited publications today – but also as chairman of the Netherlands Ornithological Union from 1974 till 2003. Drent was famous for his gentle yet sharp-sighted and inspiring way of coaching young researchers within and outside of the University of Groningen.
| | |
| --- | --- |
| Last modified: | 04 October 2022 08.38 a.m. |