Frank M. Bass chair for prof. P.S.H. Leeflang (2005)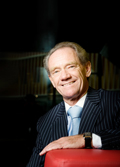 Prof. P.S.H. Leeflang has been appointed to the Frank M. Bass Chair, because Leeflang is seen as one of the founders of the field of marketing as a serious academic discipline in the Netherlands. Bass is currently attached to the University of Texas at Dallas.
Leeflang
Leeflang is professor of Economics at the Faculty of Economics. He has a great track record as an author in leading scientific journals. Eleven of the doctoral students he supervised, became professor. In 1974 Leeflang obtained a PhD in economics and became he became professor at the University of Groningen a year later.
Besides international publications Leeflang has published over fourteen books. From 1997 to 2001 he was dean of the Groningen Faculty of Economics and pro-rector from 1998 to 2001. In addition, he served several times as chairman or (Vice) President for various institutions, including the Wetenschappelijke Komissie van het NIMA (Nederlands Insituut voor Marketing), the Academy for Advanced Research in Marketing (EAARM) and the European Marketing Academy (EMAC).
In 1990 and 2003 he was a guest lecturer at the University of California in Los Angeles and is associated with the European Institute for Advanced Studies in Management (EIASM) in Brussels. Recently Leeflang holds a position at the Johann Wolfgang Goethe University in Frankfurt am Main. Since 1999, Leeflang is a member of the Koninklijke Nederlandse Akademie van Wetenschappen (KNAW).
| | |
| --- | --- |
| Last modified: | 20 August 2021 12.07 p.m. |