H.J. Scheltema chair for prof. J.H.A. Lokin (2005)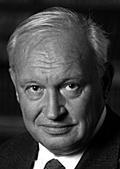 Prof. mr. J.H.A. Lokin has been appointed the H.J. Scheltema Chair. This chair is named after Professor H.J. Scheltema, who is generally regarded as the founder of Byzantine law studies in the Netherlands. Scheltema, was professor at the Groningen faculty of law from 1946 to 1977. He also enjoyed a great reputation in the field of civil law.
The importance of Roman Law
Scheltema gained international fame with a 20-piece standard work on the Greco-Roman law that he and two colleagues, Professor Holwerda and Professor Van der Wal wrote. Lokin: "Roman law is still very important for lawyers because the law – anything that has to do with agreements, wills, leases, purchases and sales –in most European countries, are often directly based on Roman law."
Lokin
Lokin studied law in Leiden and Groningen (PhD 1967). In 1967 he was appointed lecturer at the University of Groningen. Lokin in 1973 graduated under Scheltema, whom he succeeded in 1977 as professor of Roman law. Lokin calls Scheltema an extremely interesting scholar: 'It is someone about whom a biography was written. That may prove something in itself, but it says even more that this biography, titled Langs zelf gekozen paden, in the days it was published immediately became a bestseller.'
Lokin is a member of the Vereniging van Nederlandse Juristen and was president of the Dutch Association of Jurists. He was also president of the international Dickens Fellowship for two years.
| | |
| --- | --- |
| Last modified: | 23 April 2021 08.24 a.m. |