Duisenberg chair for prof. F. Smets (2009-2018)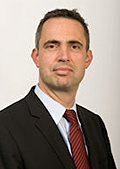 Prof. Frank Smets has been appointed as honorary professor in the new Duisenberg chair at the Faculty of Economics and Business of the University of Groningen. Smets is director general research at the European Central Bank in Frankfurt and visiting professor in Ghent. The new chair has been established to commemorate Wim Duisenberg, former Minister of Finance and former president of both the European Central Bank and The Bank of the Netherlands. Duisenberg graduated cum laude in economics at the University of Groningen.
With the establishment of the Duisenberg chair, the Faculty also stresses the importance of the disciplines macroeconomics and monetary economics. Professor Frank Smets will be appointed as holder of this chair for five years and will deliver his inaugural lecture on 16 March 2009.
European top
Dean of the faculty Prof. Elmer Sterken confirms that the faculty is delighted to have professor Smets hold the new chair: 'Frank Smets is a top researcher in the field of macroeconomics. Macroeconomics includes monetary economics, which analyses, for example, the interactions between the financial and the real economy and the policy of central banks. Smets makes a great contribution to the development of knowledge in this field of research and can help Groningen on its way to the top.' Smets will visit Groningen a couple of times a year to act as guest speaker and to teach a course for PhD students, among other things.
Smets
Frank R. Smets (Belgium, 1964) studied in Ghent and obtained his PhD at Yale University in 1993. Then he became a lecturer at the University of Basel and researcher at the Bank For International Settlements in Switzerland. Smets has been connected to the ECB since 1998; as from 2005, he has been Deputy Director General van het Directorate General Research. He is head of the research department (with 56 staff members, out of which 40 researchers) that carries out economic research for the support of policymakers. Since 2000, Smets has been a visiting professor in monetary economics at the University of Ghent.
Duisenberg chair
Wim Duisenberg (1935-2005) has been highly praised for his record of service by politicians and financial experts from the past and the present. He has become known as the driving force in the realization of the European monetary union and the introduction of the common European currency. The Faculty honours and commemorates Duisenberg with the establishment of the chair. Elmer Sterken: 'Wim Duisenberg was probably the most famous alumnus of our faculty. It is wonderful that his name lives on in this chair. It is even more wonderful that this chair connects Groningen to Europe, and more specifically, to Duisenberg's beloved ECB.'
| | |
| --- | --- |
| Last modified: | 20 August 2021 12.07 p.m. |