Otto, Prof. Sijbren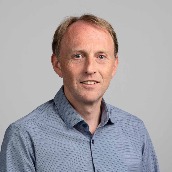 Sijbren Otto is Professor of Systems Chemistry. He studies 'chemical evolution'. His research group developed a model system of molecules that can make copies of themselves, and showed that diversity can also occur as a result of the mutation of replicators.
Up to now, chemistry research has primarily focused on developing stable systems. But biological systems depend on development and decay, on synthesis and degradation, and on the succession of life and death. Sijbren Otto wants to know whether these biological principles can also be applied to synthetic chemistry. Self-assembling and self-replicating macromolecules play an important role in that process. Synthetic chemical systems of such molecules could also undergo a Darwinian type of evolution. A first step towards synthesized life, Otto
In 2017, he was awarded a prestigious € 2.5 million ERC grant to investigate the possibilities of synthesizing life de-novo in the lab. Otto hopes to take the next steps to bridge the gap between chemistry and biology by building fully synthetic systems. These systems have the essential elements of life: replication, metabolism and compartmentalization. Up to now, it has not been possible to integrate these characteristics in a fully synthetic system. In 2020, Otto was appointed a member of the Royal Netherlands Academy of Arts and Sciences (KNAW).
In 2021, Otto was awarded the James Flack Norris Award in Physical Organic Chemistry of the American Chemical Society for his leading contribution to establishing the field of systems chemistry. Besides Sijbren Otto, Ben Feringa is the only Dutch scientist that has received this award (in 2007).
In 2023 the European Research Council has awarded Otto an ERC Synergy Grant of EUR 3.4 million for hisproject 'MINILIFE'.
More video's
Previously in the news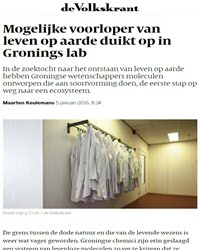 | | |
| --- | --- |
| Last modified: | 28 November 2023 12.38 p.m. |