Taatgen, Prof. Niels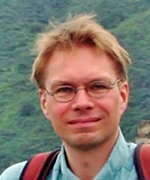 Niels Taatgen (1964) studied computer science and psychology at the University of Groningen and gained his PhD in 1999 with a thesis entitled 'Learning without limits'. He subsequently became a university lecturer in the department of Cognitive Sciences, later Artificial Intelligence, of the University of Groningen. After a period in which he worked for both the Carnegie Mellon University in Pittsburgh (US) and the University of Groningen, he became professor of Cognitive Modelling at the the University of Groningen. Taatgen investigates human behaviour using computer simulations in order to understand our behaviour in certain situations, for example when multitasking. According to him, we are much better at multitasking than we think. In 2011 he was awarded a European ERC grant of EUR 1.5 million for his research. His starting point is that people are in principle able to multitask, but that this can sometimes go wrong due to several tasks needing the same part of the brain at the same time. The project will concentrate in particular on the issue of why people want to do many things at the same time, and what circumstances control whether this is safe and productive or not.
Taatgen is the mastermind of the degree programmes in Artificial Intelligence. In 1991 he was appointed to create the predecessor of the current degree programmes, Cognitive Engineering. Taatgen teaches topics in which he is actively involved himself, and this is apparent from his expertise and enthusiasm. He does not simply stop at his favourite explanation, but always offers the students alternative interpretations. In his lectures the students' ideas as discussed all together, enthusiastically and in an open manner, and tested on the spot. Taatgen makes it clear that he finds these ideas very valuable both for the subject at hand and for his own research. Students are guided in the right direction without losing their own perspective on the problem and the solution.
In January 2016, Taatgen was voted Teacher of the Year of the University of Groningen.
Video
Previously in the news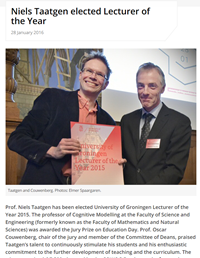 Contact and further information
Publications
| | |
| --- | --- |
| Last modified: | 10 June 2022 12.45 p.m. |