Walvoort, Prof. Marthe

Marthe Walvoort is an assistant professor of Chemistry at the University of Groningen. She researches the function and workings of carbohydrate molecules, which are not only present in food, but also in paper or on the outside of bacteria and viruses. Walvoort studies these molecules by reproducing them in the lab. In contrast to the reproduction of DNA and protein chains, this technique is still in its infancy. Much of Walvoort's work revolves around developing new methods for producing carbohydrate chains.
Bacteria often use sugars to infect other cells, which means that the knowledge generated by Walvoort's research could lead to new ways of neutralizing bacteria. Another focus area is the development of carbohydrate chains to promote the growth of 'good' rather than 'bad' bacteria, helping to curb the need for antibiotics in the future. Walvoort was granted an ERC Starting Grant worth 1.5 million euro's for her research project 'Sticky Sugars'.
At the end of her degree programme in chemistry in Leiden, Walvoort spent a year carrying out research in Oxford. She was then awarded a PhD in Chemistry in Leiden (cum laude (with distinction)) and worked at Massachusetts Institute of Technology (MIT) as a postdoc researcher from 2012 to 2015.
Walvoort is a Rosalind Franklin Fellow at the University of Groningen and one of the founders of the Young Academy Groningen.
Previously in the news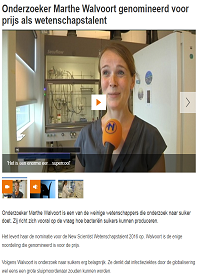 Contact and further information
Publications
No matching publications were found.
| | |
| --- | --- |
| Last modified: | 04 July 2023 10.40 a.m. |