Scherpen, Prof. Jacquelien

Jacquelien Scherpen studied Applied Mathematics at the University of Twente, where she also gained her PhD in 1994 with a thesis entitled Balancing for nonlinear systems. She then went on to work at the TU Delft, after which she became Professor of Discrete Technology and Production Automation at the University of Groningen in 2006. Prof. Scherpen has been Director of the Engineering and Technology Institute Groningen since January 2013.
Her research area covers order reduction methods for nonlinear control systems in order to make control design and implementation feasible for complex nonlinear systems. Furthermore, she studies the design of distributed and often nonlinear controllers for complex applications. Examples of such systems can be found in industry, robotics, micro systems, semi-conductors, energy systems, smart grids and space applications.
Scherpen is currently conducting research on more efficient use and distribution of energy. She recently was awarded two NWO grants for projects looking into sustainable energy systems.
In 2020 Scherpen has been appointed as the Captain of Science in the High-Tech Systems and Materials (HTSM) top sector.
Scherpen was the 2023 winner of the Prins Friso Engineering price. ""Scherpen devotes herself to the visibility of engineering in general, among other things by enthusing young people for the engineering profession and breaking down gender stereotyping regarding female enginers. All in all, this makes her a role model for new generations of engineers," the jury said.
As of 1 September 2023, Scherpen is the UG's rector magnificus.
Previously in the news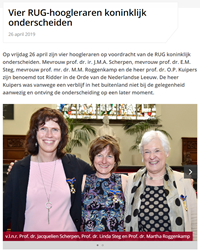 Contact and further information
Publications
| | |
| --- | --- |
| Last modified: | 04 September 2023 08.52 a.m. |