The city of Groningen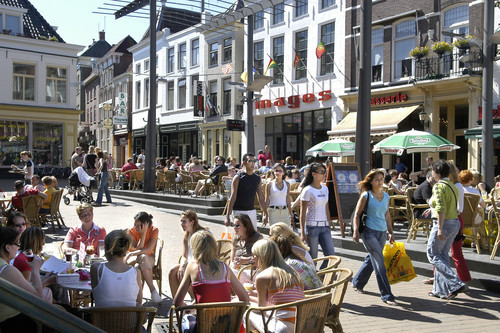 People
One of the first things that you will notice when entering Groningen is probably its youthful population. Roughly a quarter of the city's 195,000 inhabitants consists of students. You will find them everywhere, studying in the park, riding a bike, or having a drink with fellow students in one of the many pubs.
Atmosphere
Walking around in Groningen, you can still feel a medieval atmosphere in some areas, while in other parts you can admire groundbreaking modern architecture.
The university has a visible presence: the historic buildings in the inner-city tell the tale of a rich academic tradition, while the University Medical Center Groningen is an example of contemporary architecture. The city parks allow you to see the signs of spring arriving, feel the warmth of the sun on your skin, or watch the first autumn leaves falling.
There are a lot of events happening in Groningen, be sure to check out this website to get a feel of all the activities that take place in this beautiful city!
Lifestyle
With the city's many bars, restaurants, theatres, museums and sports facilities, you will never be bored. But if you do feel like leaving the vibrant city life, the countryside is never far away. Take a breath of air and clear your head while enjoying the flat landscape and limitless view in all directions when you get nearer to the 'Wadden Sea'.
Groningen has recently been voted as the most innovative city in Europe (European Commission) - find out why thy city is so innovative here!
| | |
| --- | --- |
| Laatst gewijzigd: | 16 juli 2018 12:21 |