Dr. Chris May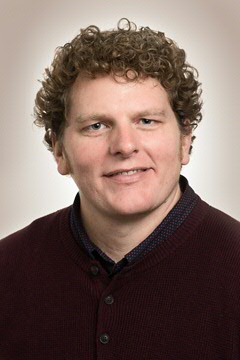 Name: Chris May
Nationality: American
Qualifications: Ph.D. in Psychobiology from the University of California-Davis; B.S. in Psychology, Cognitive Science, & Philosophy from Tulane University
What you'll teach at University College Groningen:
I teach courses in statistics, neuroscience, and cognitive psychology

Research:
I conduct research on the cognitive, emotional, and social effects of contemplative practices such as meditation. I am also interested in the scholarship of teaching and learning.
Personal Information:
My favourite food is…
Sushi! mmm...
My favourite thing about Groningen is…
Being able to bike to so many interesting events, beautiful places, tasty restaurants, and fun hangouts.
My favourite place in the world is…
I'm fond of many of the places I've lived (e.g., New Orleans; Davis, California; Madison, Wisconsin; Groningen) and travelled (some favorites are Japan, Vietnam, and Ireland).

Something most people didn't know about me is…
If Will Smith cries in a movie, I do too. It's basically a rule.
My biggest achievement is…
Likely to be having learned Dutch. This is going slowly...
When I'm not working I'm…
Getting over the last Will Smith movie by eating my fiancee's amazing baked goods or listening to Tool on the elliptical.
I get a lot of inspiration from…
Sweet/warm smiles, hearty laughter, and a twinkle in the eye.

More about Dr. Chris May
| | |
| --- | --- |
| Last modified: | 20 January 2020 1.33 p.m. |