prof. mr. dr. B.C.A. (Brigit) Toebes
Professor, Health Law in a Global Context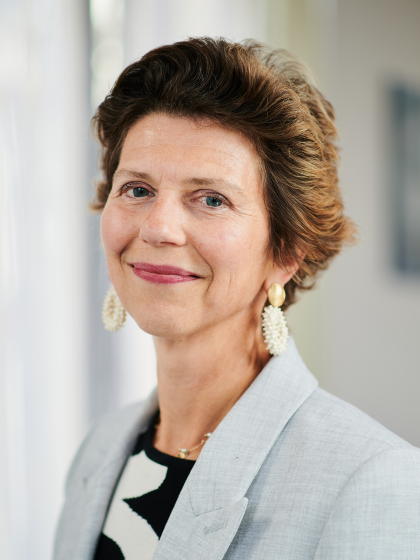 ---
Field/Discipline
Expertise
Legal scholar with more than twenty years of experience in the international standards protecting health, with a strong emphasis on human rights and health prevention. Currently an important player in the discussion about 'global health law' as an emerging branch of public international law. Recent research themes include the NCD pandemic and the regulation of behavioural risk factors (in particular smoking and unhealty diets), the regulation of vaccination, and the role of law in socio-economic health inequalities.

In 2013, she was awarded a Rosalind Franklin Fellowship at University of Groningen Faculty of Law, which led to her appointment in the Chair Health Law in a Global Context in 2018. She is the initiator of Global Health Law Groningen Research Centre, which hosts around fifteen researchers who focus on various dimensions of health and human rights.

Brigit has published widely in legal, public health and multidisciplinary journals, including Human Rights Quarterly, Harvard Health and Human Rights, the BMJ, and Tobacco Control. She participates in several international and domestic bodies, including as co-chair of the Global Health Law Committee of the International Law Association, as board member of the Dutch Association of Health Law, and as Coordinator of the Aletta Jacobs School of Public Health.

With funding from the Dutch Cancer Society/Lung Foundation she conducts research in the field of tobacco control since 2016, looking at tobacco concerns particularly through a human rights lens. Brigit was member of the Committee on vaccination for childcare (Commissie Vermeij), and acts as a consultant to various international bodies, including the WHO and UN Special Rapporteur on the Right to Health. More recently, Brigit is engaging with international standard-setting, including regarding the adoption of an international standard protecting healthy diets.
Other positions
Co-Chair, Global Health Law Committee, International Law Association (ILA)
Member of the Board, Netherlands Society of Health Law
Member Dutch Health Council and Committee on Ethics and Law
Associate Editor, BMC Health and Human Rights
Member of the Advisory Board, International Federation of Health and Human Rights Organizations (IFHHRO)
Member of the International Scientific Committee - Observatory on Human Rights: Bioethics, Health, Environment (University of Salerno)
Chair of the Advisory Board, Dutch Pharmaceutical Accountability Foundation
Member of the Advisory Board, Johannes Wier Foundation
Member of the Advisory Board, NCD Unit, University of Liverpool
Coordinator, Aletta Jacobs School of Public Health
Chair, work group on Diversity, Inclusion and Social Safety, Faculty of Economics and Business, University of Groningen
| | |
| --- | --- |
| Last modified: | 07 August 2020 1.50 p.m. |