Cordaid – Small Arms and Light Weapons
We are a team consisting of six people, five of whom are studying International Relations and one American Studies. From left to right in the photo: Kees Rödel (BA International Relations), Quinten Offenberg (BA International Relations), Caspar Dam (BA American Studies), Jonna van den Wijngaarden (BA International Relations), Eva Boersma and Eileen Mullen (both BA International Relations).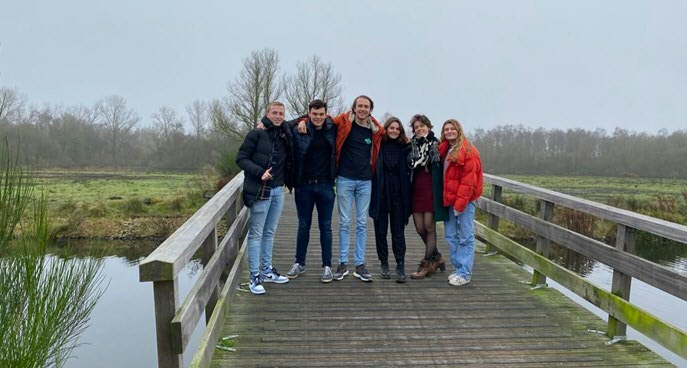 As part of the Faculty of Arts' Career Minor, we cooperated with Cordaid to investigate the proliferation of small arms and light weapons (SALW) in the Horn of Africa and the Sahel. The illicit proliferation of SALW poses a significant threat to peace and security at a national, regional, and global level. It has transformed conflict in such a way that it has enormous destabilizing effects on countries in both economic, humanitarian and many other fields.
In the study, we focused on the countries Mali and South Sudan. Through several sub-questions, we mapped out, among other things, the current situation of SALW in the above countries and how important players are currently involved in the proliferation of SALW. We also focused on Dutch and European activities to reduce SALW proliferation and examined the extent to which policies are already in place to limit the destabilizing effect of SALW.
In the final days of January we handed in our final report. As was requested by Cordaid we came up with a variety of policy recommendations as to how to tackle SALW proliferation in Mali and South Sudan, in our opinion. Based on our research findings, these recommendations revolved around Security Sector Reform and better governance, as well as the improvement of sustainable livelihoods for local people in order to reduce demand for weapons.
On the 26th of January we presented our research findings and recommendations at Cordaid's office in the Hague to our supervisors from Cordaid, as well as to an eager audience of experts that joined us online. We were glad to learn that the document we worked on full time for months was well received and we left the Hague content.
Looking back we had an exciting time in which we learned a lot about what it is like to work together in a small team on an assignment such as this and we would not hesitate to do it all over again if we had to.
| | |
| --- | --- |
| Last modified: | 22 February 2022 11.33 a.m. |