Scholierenacademie Wetenschapsfestival
Inclusief de uitreiking van de profielwerkstukprijs!
Na maanden zwoegen is het zover: jouw profielwerkstuk is af. En? Ben je trots op je PWS en denk je dat jouw werk kans maakt op een prijs? Stuur je profielwerkstuk dan in en wie weet ben je welkom op ons eerste Wetenschapsfestival op 27 maart!

Op het Wetenschapsfestival komen leerlingen en jonge wetenschappers bij elkaar om kennis en passie te delen, nieuwe dingen te ontdekken, en hun onderzoek te presenteren. Uiteraard worden er ook prijzen uitgedeeld voor de beste en leukste profielwerkstukken van Nederland. Het Wetenschapsfestival vindt plaats op 27 maart 2020 in het Universiteitsmuseum, de ideale plek om de wetenschap te vieren! Praat met jonge wetenschappers over hun onderzoek, bekijk wat mensen vroeger aten bij de archeo-foodtruck, of maak een nieuwe profielfoto in de photobooth. De dag wordt omlijst door muziek, om helemaal in de festivalsferen te komen. Kortom, het belooft een ontzettend leuke dag te worden! Praktische informatie...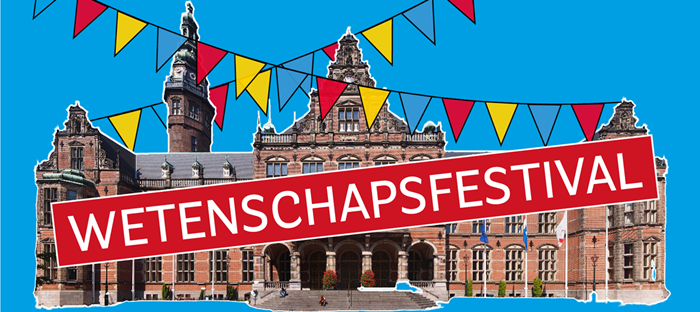 Hoe werkt het precies?
Wij gaan dit jaar met ons team bij meerdere scholen in de noordelijke provinces langs om leuke profielwerkstukken te vinden. De leukste profielwerkstukken nodigen we uit om op het Wetenschapsfestival een standje op te bouwen, om daar meer te kunnen vertellen over hun eigen onderzoek. Zijn we al langs geweest op jullie school en zijn jullie nog niet benaderd? Niet getreurd, je kunt je profielwerkstuk nog steeds insturen.
Natuurlijk is het ook mogelijk om je profielwerkstuk op te sturen als we niet op jullie school komen dit jaar. Dat kan hieronder! Als je een profielwerkstuk voor C&M hebt geschreven, kun je meedoen voor de Marie Lokeprijs. Heb je een E&M-werkstuk? Doe dan mee voor de Jan Penprijs. Voor een N&G- of N&T-werkstuk stuur je het in voor de Jan Kommandeurprijs.

Praktische informatie
Wanneer: 27 maart 2020
Waar: Universiteitsmuseum Rijksuniversiteit Groningen
Deadline: Je pws insturen kan tot en met 1 maart
Vragen? Neem contact op met

Karen de Bot

: scholierenacademie@rug.nl.
| | |
| --- | --- |
| Laatst gewijzigd: | 20 januari 2020 13:38 |