Warme chocolademelk met recept uit 1791
Merit Hondelink doet onderzoek naar wat mensen in de middeleeuwen aten. Hierover vertelt ze meer in onze Junior MOOC. Zelf probeert ze de recepten ook uit, bijvoorbeeld deze voor warme chocolademelk.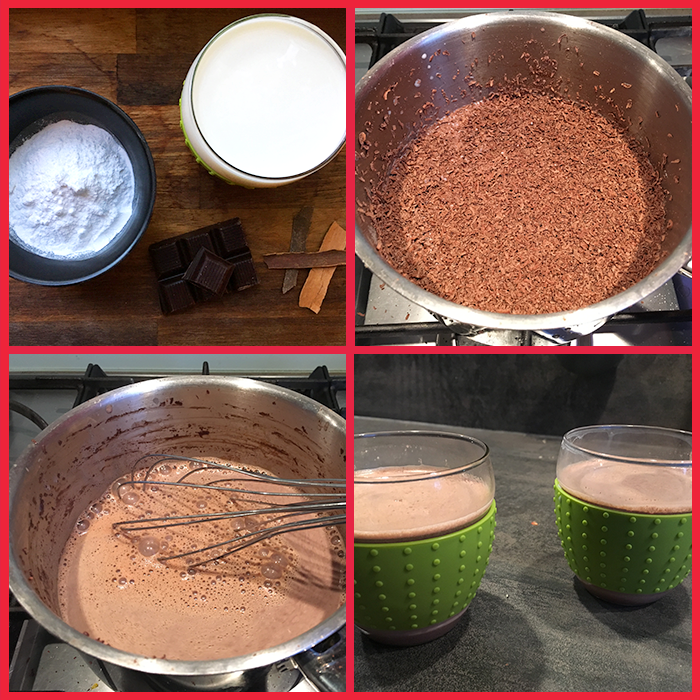 Men schrap met een mes, of beter men raspt op een rasp zoveel van de koekjes af, als men begeert; bij voorbeeld vier groote eet-lepels vol, (dat ongeveer één once bedraagt); men doet het in een chocolade-kan, giet er ongeveer een-vierde mengelen (zijnde agt oncen) kookend water op, of anders melk naar begeeren, en roert het met de roerstok braaf door elkander; dan zet men de kan op het vuur, en zo dra het opkoomt, neemt men ze af, zijnde als dan gereed om te drinken; maar eer men het in de kopjes schenkt, moet men telkens de chocolade met de roerstok braaf roeren, zo dat ze niet anders als schuim schijnt te zijn. Om dezelve nog aangenaamer van geur en smaak te maaken, kan men er een lepel vol water van oranje-bloeizel voor het inschenken bij roeren. Dit is de gewoonlijke manier van bereiding, der te zaamengestelde chocolade; maar zijn de koekjes enkeld, te weeten zonder zuiker en specerijen, dan geschied de bereiding ook op de zelfde wijze; doch men voegt dan meesttijds wat zuiker en kaneel bij de geraspte chocolade, naamelijk tot vier lepels vol chocolade twee lepels vol beste poeijer-zuiker, en twee of drie vinger-greepen heel fijn gestootene en gezifte kaneel; en wat men verder daar bij wil hebben.

Bron: De Friesche Keukenmeid en zelfstandige huishoudster, 2e druk, 1791, p. 85.
| | |
| --- | --- |
| Laatst gewijzigd: | 30 september 2019 14:34 |