Open House of Connections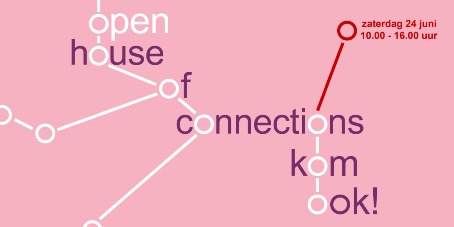 On Saturday 24 June, the University of Groningen is inviting members of the public to visit the House of Connections in the former V&D building on the Grote Markt.
Curious to find out who works opposite the La Place restaurant and discover what they do? You are welcome to join us!
Attend a lightning talk, ride a hydrogen bike, meet Pepper the service robot, or join other visitors in creating a work of art by choosing the issue you think is most important for a sustainable future.
Programme
Lightning talks
Check our timetable for a complete programme overview.
Do it yourself: interactive installations
Art
A mural has been painted on the right-hand side of the staircase leading to the House of Connections and La Place. The theme of the mural is the relationship between science and society. It was painted by the Lithuanian artist Kamilė Česnavičiūte.


The mural is the third in a series commissioned by the University of Groningen to depict the connection between the city of Groningen, the University, and science. The murals are created by different artists in a contemporary way. The first mural is about Aletta Jacobs and can be found on a wall in the University Library. The second mural, near the entrance to the University Museum, depicts the work of astronomer Jacobus Cornelius Kapteyn.

Building a sustainable future together!: The House of Connections stands for working towards a sustainable future, together. But what does that actually mean? Which things need to be improved, and what do you think is the most important issue to work on? When you visit the House of Connections' Open Day, you will be given a set of stickers. Stick them on the issue that is most important to you when it comes to a sustainable future and contribute to a collective piece of art!

Help artist Maria Koijck to create a work of art to be displayed in the House of Connections. In doing so, you will be contributing to a more sustainable future.
History

The House of Connections is located in the former V&D building, a household name for the older people among us. It was a shop where people used to buy school supplies or look for bargains during the sales. Read more about the history of the building in the information box.

Who works at the House of Connections?

The House of Connections accommodates organizations that collaborate with others, both within and outside the University of Groningen. It is also home to four Schools for Science & Society and the University of the North.

Versatile!

The House of Connections is undoubtedly the most versatile University of Groningen building. The space on the first floor can be configured in a variety of ways using rails with moveable walls. The interior decoration of the four fixed boxes reflects the themes being explored in the House of Connections.
| | |
| --- | --- |
| Last modified: | 19 June 2023 09.51 a.m. |