News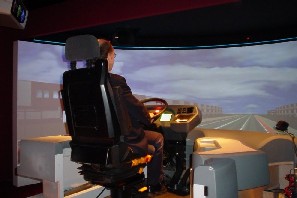 Demonstratie SARAgene op 3 en 26 november 2003
Op maandag 3 en woensdag 26 november a.s. zal in de Reality Cube in de Zernikeborg het bij SARA/Amsterdam ontwikkelde programma SARAgene worden gedemonstreerd door Bram Stolk. SARAgene is een datamining applicatie voor genomics onderzoek, die inmiddels hier is geinstalleerd. Hiermee kan een wetenschapper in een oogopslag genloci, sequentiedata, molecuulstructuren, metabolic pathways en expressiegegevens van een groot aantal proteinen overzien. Meer informatie vindt u hier.
U kunt zich voor deze demonstratie opgeven bij Hayko Wind.
RUG Rijsimulator onderzoekt rijgedrag Phileas van APTS
In ons eigen land, in Helmond, is door de firma APTS (Advanced Public Transport Systems) een hypermodern elektronisch geleid nieuw voertuig ontwikkeld. In de zeer nabije toekomst zal dit voertuig, de "Phileas", in Eindhoven gaan rijden. De Phileas is kruising tussen een tram en een bus. Er komen twee versies, één van 18 meter lang voor 120 passagiers en één van 24 meter lang voor 180 passagiers. De bus is normaal met de hand te besturen, maar kan ook half of zelfs volledig automatisch rijden. Dit laatste is alleen mogelijk op een speciale busbaan die uitgerust is met magneten in het wegdek. Het aanlanden bij de gelijkvloerse haltes zal eveneens automatisch plaatsvinden.
Rijdt de Phileas ook in Groningen?
'Misschien' en 'ja'. Misschien, want bij het Kolibri project van de Gemeente Groningen is de Phileas in december 2002 al gepresenteerd als alternatief voor tram of 'light rail' (trein) in en rond de stad. Ja zeker, want binnenkort start bij de RuG een onderzoek naar het gedrag van chauffeurs bij het besturen van de Phileas. Het onderzoek zal plaatsvinden in een rijsimulator die staat opgesteld in het nieuwe visualisatiecentrum van het Rekencentrum (Zernikeborg). Groningse onderzoekers van de vakgroep Psychologie, in samenwerking met het Centrum voor High Performance Computing en Visualisatie (HPC/V) van het Universitair Rekencentrum, gaan kijken hoe de chauffeur het rijden in de Phileas ervaart, wat hij of zij er van vindt, en of het veilig is om deels geautomatiseerd deels normaal te rijden.
Eind juni gaat het onderzoek van start. Proefrijders zijn geworven onder chauffeurs van de firma ARRIVA en de Eindhovense firma Hermes. Meer informatie over Phileas is te vinden op de website van APTS:
Meer informatie over de rijsimulator kunt u krijgen bij:
Karel Brookhuis (K.A.Brookhuis@ppsw.rug.nl, 050-3636772) of
Hayko Wind (H.H.J.Wind@rc.rug.nl, 050-3633379)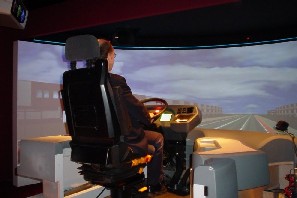 | | |
| --- | --- |
| Last modified: | 21 November 2018 3.31 p.m. |