Lung Fund subsidizes research into COPD and lung repair 2015: Reinoud Gosens
Research being carried out by a consortium headed by Dr Reinoud Gosens of the Department of Molecular Pharmacology, is to receive a grant of € 600,000 from the Lung Fund (formerly known as the Asthma Fund).
Gosens and his team are focusing on the 'WNT signalling pathway', a process that is responsible for foetal lung development and for lung recovery after pneumonia. It is a process that does not work properly in people with COPD, leaving their lungs permanently damaged. Gosens and his team are looking for ways to reactivate the process, and thereby enable the damaged lungs to repair themselves. The researchers' prime objective is to stimulate tissue repair processes in COPD patients by means of stem cell therapy and pharmaceutics designed to reactivate the 'WNT signalling pathway' via specific intracellular signalling mechanisms.
Researchers from Groningen are working on the project alongside researchers from Leiden University Medical Center and Helmholtz Zentrum München (German research centre for environmental health).
Lung Fund
In addition to Gosens' research, the Lung Fund has also allocated funding to two other UMCG research projects. This year, the Lung Fund donated € 2.8 million to four major Dutch studies looking into lung disease. The Lung Fund hopes that allocating funding to universities that work together will encourage them to pool their knowledge.
The Lung Fund works hard to help people with lung disease and to keep healthy lungs healthy. Healthy lungs are literally a matter of life or death. More than a million people in the Netherlands suffer from a lung disease, such as asthma, COPD or another rare form of lung disease.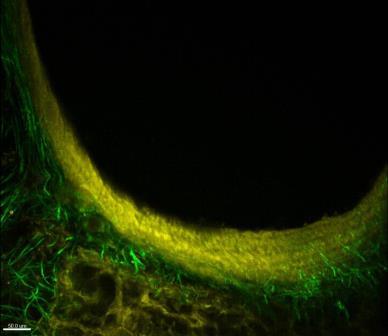 | | |
| --- | --- |
| Last modified: | 28 October 2015 09.48 a.m. |