Loes Kistemaker:NRS Swierenga Thesis Award 2016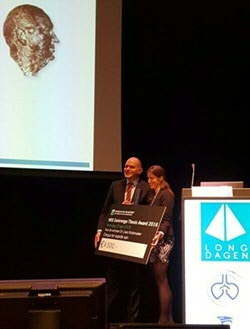 Loes Kistemaker received NRS Swierenga Thesis Award
During the Dutch Longdagen 2016, Dr. Loes Kistemaker,
research group Molecular Pharmacology of the Groningen Research
Institute of Pharmacy (GRIP), was awarded the NRS Swieringa Thesis
Award. Loes Kistemaker received the award together with a price of
€ 4.500,-. The Swieringa Thesis Awarded is granted annually to the
best thesis in the field of lung diseases, diagnostics and therapy.
Loes Kistemaker obtained her PhD in March 2015 and was rewarded
the classification cum laude. She graduated under the supervision of
Prof. R. Gosens, Prof. H. Meurs (GRIP) and Prof. H. Kerstjens (UMCG).
The studies Loes Kistemaker described in her thesis have revealed
that acetylcholine contributes to airway inflammation and remodeling
in asthma and Chronic Obstructive Pulmonary Disease (COPD)
specifically via M3 muscarinic receptors. In addition, she provided the
first evidence that inflammation in COPD is in part mediated by the
neurotransmitter acetylcholine. This suggests that patients with asthma
or COPD might benefit from M3-selective antagonists to a much larger
extent than previously appreciated.
| | |
| --- | --- |
| Last modified: | 28 May 2021 3.41 p.m. |