Handelseditie 'Versterving in het Nederlandse kloosterleven' (Bert Bakker)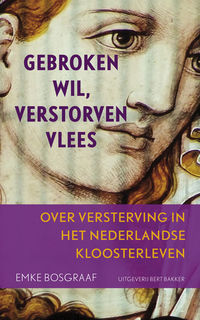 Gebroken wil, verstorven vlees
Over versterving of ascese in het kloosterleven in de twintigste eeuw was tot nog toe weinig bekend. Rond 1950 werden tal van praktijken -- die we meestal associëren met een ver verleden -- nog beoefend in het Nederlandse kloosterleven. Het gaat hier niet alleen om vasten of stilzwijgen, maar ook om lichamelijke kastijding en nederigheidsrituelen.
In 'Gebroken wil, verstorven vlees' komen zowel de psyche als lichamelijk georiënteerde versterving aan bod die allebei gericht waren op het disciplineren van wil en lichaam ter bevordering van spirituele groei. Op basis van literatuurstudie van primaire bronnen en negentien interviews met religieuzen die deze praktijken zelf nog hebben meegemaakt, wordt een beeld geschetst van welke praktijken er destijds bestonden, op welke verschillende manieren deze werden ervaren en hoe het komt dat veel van deze praktijken plotseling zijn verdwenen. Het proefschrift haalde in 2009 de landelijke media, zie de sites van
Trouw
en de NOS.
Na het verschijnen van het proefschrift is er het nodige gebeurd binnen de katholieke kerk. Hier valt vooral te denken aan de storm aan getuigenissen over misbruik van kinderen in katholieke instellingen. In de epiloog van de handelseditie wordt hier specifiek aandacht aan besteed. Feit is immers dat het hoogtepunt van meldingen van misbruik zich concentreert in de periode 1950-1960, dezelfde periode waar het boek zich op richt. Gebroken wil, verstorven vlees biedt dan ook aanknopingspunten om meer inzicht te krijgen in de toenmalige context waarin het misbruik plaatsvond. Veel mensen hebben op het celibaat gewezen, waarmee versterving in de zin van 'tuchtigen van het vlees' nauw mee samenhangt. Dit boek biedt een breder perspectief dat het accent legt op de geestelijke vorming van religieuzen. De vraag is namelijk in hoeverre de geestelijke vorming van religieuzen die gestoeld was op gehoorzaamheid en nederigheid in een later stadium werd doorgegeven aan kinderen. Twee andere punten die in het boek aan bod komen zijn de relatie tussen versterving en de grensoverschrijding van daders, en de verhouding tussen versterving en de zogeheten 'doofpotcultuur'. Op de voorpagina van de wetenschapsbijlage van de Volkskrant is hier recent een interview over verschenen (Pijnlijke banden met God, Geertje Dekkers, 8-1-2011).
Emke Bosgraaf (1980) promoveerde eind 2009 cum laude op zijn studie over versterving in het Nederlandse kloosterleven. Momenteel is hij freelance onderzoeker.

| | |
| --- | --- |
| Laatst gewijzigd: | 12 juni 2023 20:17 |