Sequence and schedule
Below is an overview of the construction work scheduled to take place on the eighth and ninth floors of the Linnaeusborg.
> Also check the latest news.
Nuisance
Nuisance: what, where and when?
Construction work in

Period / date

Anticipated disruption

5172, 8th floor:
- 823-825: ductwork

5 & 6 March 2021
Dust partitions are placed.
Crane next to building
8 March 2021
-

5172, 9th floor:
- scaffolding dismantled and removed

8-12 March 2021
Limited noise nuisance.

5172, 9th floor:
- openings will be made in the roof top

8-12 March 2021
Limited noise nuisance.

5172, 9th floor:
- lab conversion 0932, 0938 and 0944 for BBC & Stratingh

Oct 2020 - May 2021

Deposition of construction area and possible noise nuisance.

5172, 9th floor:
- cordoning off the area under construction. From elevators to 0944.

As of 12 October 2020

Room 0945, labs 0954 and 0968 remain available from the staircase on the eighth floor (south side).

Elevators and stairs on the north side are not available. Exception is transport of lab materials.
Minimization of disruption & Contact
It will not be possible to avoid disruption altogether but we will do all we can to keep it to a minimum.
The following steps will be taken to minimize disruption:
The most disruptive work will be carried out during the quietest periods (holidays or off-peak hours)
Whenever possible, internal transport will take place before 9 a.m.
Wherever possible, use will be made of fixed transport routes in the building (including use of the same lift)
henever possible, construction areas will be cordoned off to separate staff members from construction workers (also to facilitate compliance with coronavirus restrictions)
Use of radios will not be permitted
Regular updates will be issued about anticipated disruption via the website, the occupational health and environment contact person (AMV coordinator) and/or your secretariat
A round-the-clock contact service point will be available via reception (see below)
Contact
If you have a question or something you wish to report, please send an email to receptie.lb@rug.nl.
Schedule
Below is a broad overview of the renovation work that has already been completed on the eighth and ninth floors of the Linnaeusborg building and the work still pending.
Phase 1 (completed)
Phase 1
Over the last few months, the building team has been hard at work creating extra chemical lab facilities for the ARC Chemical Building Blocks Consortium (ARC CBBC) and the Stratingh Institute. On the ninth floor of building 5172, the first phase has now been completed. There are now two new labs, equipped with eighteen fume cupboards and eight under-bench cabinets for fixed workstations. The ventilation system has also undergone a major upgrade, providing for a potential 40% increase in the building's air conditioning capacity.
Phase 2 (July 2020 - mid 2021)
Phase 2
The second and last project phase will include renovation work on the eighth floor, where existing practical laboratories will be converted into biochemical laboratories for the Chemical Biology 1 (GBB) group and the Stratingh Institute. This will create space on the ninth floor for the creation of the last three chemical laboratories for ARC CBBC. So, in this phase, a total of five new labs will be created with 33 fume cupboards and 18 under-bench cabinets on the eighth and ninth floors, for use by the Stratingh Institute and ARC CBBC.
Expansion of air filter system capacity
The capacity of the ventilation ducts will be further expanded and extra air handling units will be added to the ventilation system on the north side. In order to make the necessary changes to the ventilation system safely, the building will probably have to be closed for a short period towards the end of 2020. Further information will become available in due course.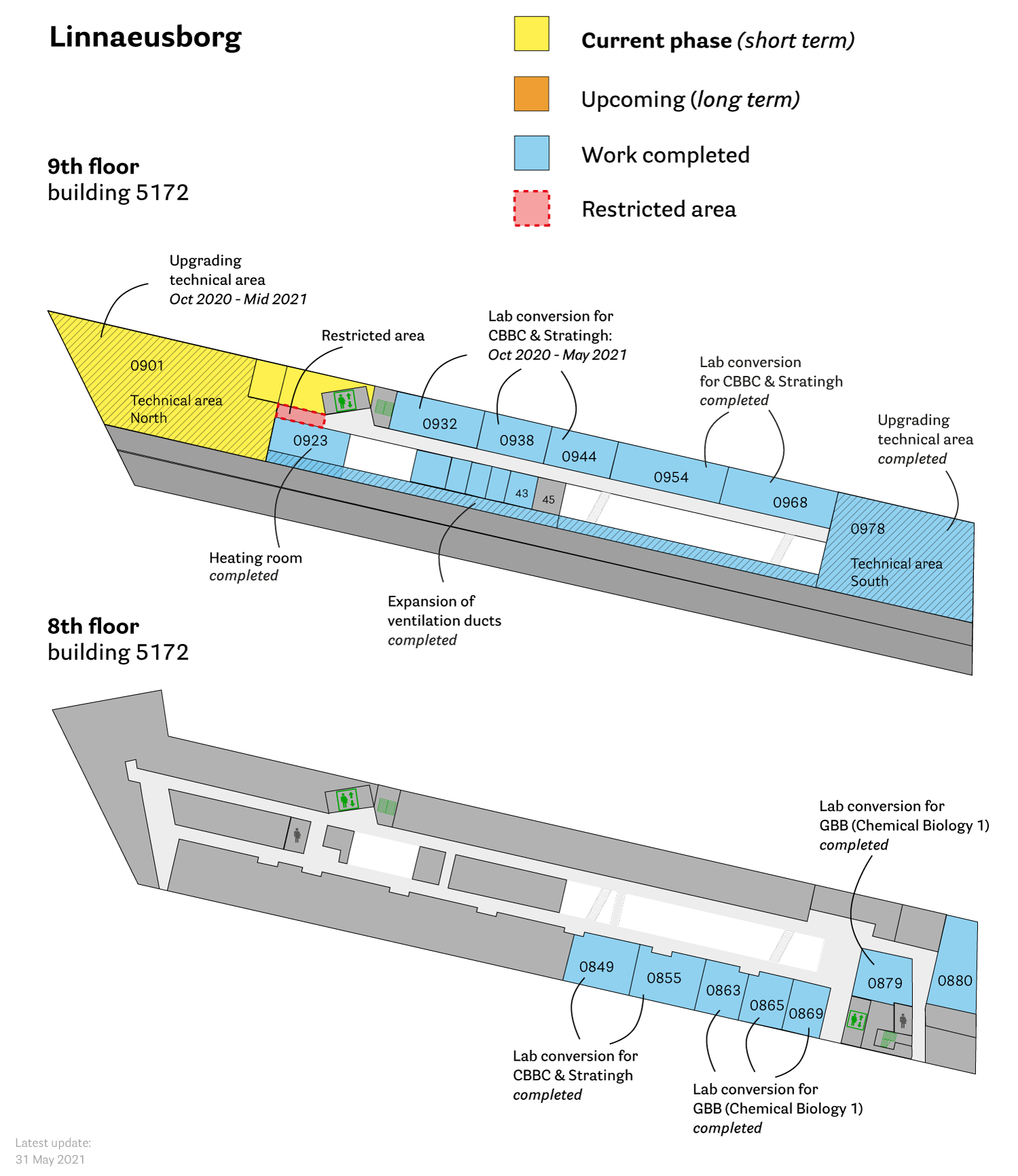 | | |
| --- | --- |
| Last modified: | 02 March 2021 1.46 p.m. |