Tom Postmes: can living in an earthquake zone make you sick?
Can living in an earthquake zone make you sick?
When we read in 2014 that people thought they were getting sick from the earthquakes in the Groningen gas field, Katherine Stroebe and I asked ourselves: is that true?
In 2015, the National Coordinator Groningen asked us to investigate the impact on the residents of the area. It appeared that multiple damage can be the prelude to what journalists called 'earthquake stress'. Injustice and mistrust play a role; but feeling unsafe is the main problem. In addition to the risk of collapse, this involves fear of quakes getting worse and practical problems regarding renovating, relocating or financial consequences. The lengthy bureaucracy and legal procedures bring people down even further.
The biggest eye-opener was the scope. Of the 100,000 residents with multiple damage, 50,000 feel unsafe and have about 10,000 health complaints. This is twice as many as similar groups in other areas. These new insights influenced local policy and played a role nationally in the decision to close the gas tap.
It's vital therefore to make sure that these results are correct. Three independent investigations confirmed the central conclusions. We found that stress and feeling unsafe go hand in hand with actual problems. We observed that what people perceived during the quake of Zeerijp (2018) corresponds exactly to the 'hard measurements' of the Royal Netherlands Meteorological Institute (KNMI). When Groningen residents first felt a really violent earthquake on 30 March 1976, there was no measuring equipment yet. In hindsight, authorities and experts should have listened more closely and earlier to the observations and experiences of everyday people.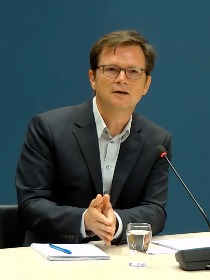 Function
Full Professor, Social Psychology
Expertise
Tom Postmes (PhD, 1997, University of Amsterdam) studies human behavior in virtual groups and communities, in crowds and also in organizations and "normal" teams. A major theme in his work how individual actions, thoughts and social interactions become co-ordinated, in such a way that people act and think as a team, a group, an organization or as a society. In chaotic, unusual or unexpected situations (a demonstration, a disaster but also online) a process of self-organisation takes place. We can learn a lot from this and it raises questions about group dynamics in "normal" groups and everyday life. Central to a lot of his work is the influence of personal and social identity: the relation of the individual to the group.

Tom became a professor of Social Psychology at the University of Exeter in 2004. Since returning to The Netherlands in 2007, he is the chair of Social Psychology at the University of Groningen. He received various awards from august institutions such as the Royal Netherlands Academy of Arts and Sciences (KNAW), the Dutch National Science Foundation (NWO), the Economic and Social Research Council (UK) and National Science Foundation (USA). In recent years, he has collaborated with various ministries on research projects concerned with societal discontent and social unrest in The Netherlands. He also studies the societal impact of induced earthquakes in Groningen, and is Scientific Director of the knowledge platform (Kennisplatform Leefbaar en Kansrijk Groningen, in Dutch) that seeks to integrate knowledge about this and promote its application.
| | |
| --- | --- |
| Last modified: | 03 September 2019 10.39 a.m. |