Lanjing Zeng
"The magic of Psychology"
It was at Business school back in China where Lanjing Zeng got her first taste of Psychology: "What is this magic subject I thought, I want to know more." A year later she has moved to Groningen to attend the Psychology bachelor's degree programme at the University of Groningen.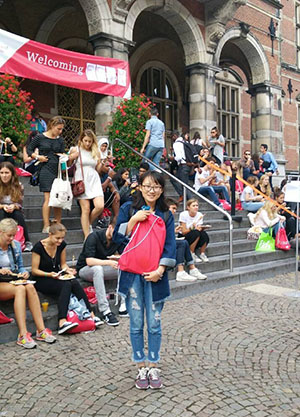 'I especially like how the classes are organized,' Lanjing Zeng says. "You get a feel of what psychology is about – not only theoretically. For instance, in the Academic Skills and Dialogue' classes you obtain basic conversational and diagnostic skills necessary for work in practice."
Best choice
It is a long way from her home country to the Netherlands, so how did she find this bachelor's programme in the first place? "A teacher at business school referred me to the university in Groningen," Lanjing Zeng explains. "She had studied there herself and was very satisfied with the level of education. I did some online research and looked at the introduction videos. After comparing it to the Psychology studies in China, I decided that Groningen would be my best choice indeed."
Change
In the third year of the Bachelor, students have the opportunity to specialize in a domain of their interest. Lanjing Zeng is still orientating on what that path will be. "That will also prepare me for my master's track. I see myself working in a job where I combine my business school background with my knowledge of psychology. But, for now, I take one challenge at a time. I am still getting used to life in the Netherlands."
Advice
Does she, as a new student, have any advice for future students? Lanjing Zeng: "I sometimes worry about my English. The first weeks I had some trouble understanding everything in the lectures. It does get easier by the day, but I would recommend taking some extra English classes." And what about housing? She laughs: "Well, if you don't like biking that much, find a room near the university."
Lanjing Zeng, 21, from China.
| | |
| --- | --- |
| Laatst gewijzigd: | 25 juli 2017 15:21 |