Filiz Uzuner
"Do not worry too much, just enjoy"
First year Psychology student Filiz Uzuner did not waste any time making Groningen her new home town. Besides going to the university there, she participated in the Keiweek, signed up with student association VIP and is a member of their first year committee. "I have made a lot of new friends."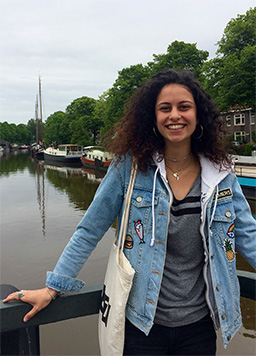 Moving to Groningen was a new adventure for the nineteen year old Filiz. After a gap year in the United States, she started to look around for a study programme that would suit her. "I am good with people and really enjoyed the biology and psychology classes I took in California," she says. "So when I found out about the English-taught bachelor's programme in Groningen, that really sparked my enthusiasm."
Getting to know Groningen
Together with her mum and dad Filiz attended an introduction lecture during the Open Day of the university. "It helped me to get an impression of the bachelor's programme and it gave me the opportunity to ask other international students about their experiences." The decision was not hard: Groningen it would be. Not long after that she found housing via a local estate agent and moved into a new home together with two befriended Dutch students.
To get to know the city better, she enrolled in the university's introduction week (Kei-week) and joined VIP. "It can be pretty hard to find new friends, so I wanted to experience as much social activities as I could. In those first weeks, I got to know a lot of new faces, some of whom I now consider good friends," she says.
From theory to practice
"I really enjoy most of the lectures," says Filiz. "We see how theory works in practice thanks to filmed research and the practical pointers the lecturers give. What is handy too, is that most lectures are filmed so you can watch them again in your own time – which in some cases also means that you do not have to attend the lecture.'
Filiz's advice
In her spare time Filiz sports at the ACLO, socializes with friends and organizes events for other first year students in the first year committee of VIP. "Never a dull moment," she says, smiling. Her advice for other international students that consider to go to Groningen? "Go visit Groningen and experience the vibe of the city."
And once you live here? "Engage in social organizations like VIP. Get a Dutch bank account so you can get a Dutch telephone contract. Get your insurances right. But in general, do not worry too much. It is not that different from Ger many, really."
Hotspot according to Filiz:
"Popular place to be when exams are in sight is the University's Library. Or as the Dutch students call the library in short: 'the UB'. This is the place to study, but also to take a break from the books. Because hey, you have to drink coffee as well, right?"
| | |
| --- | --- |
| Laatst gewijzigd: | 13 juni 2017 14:44 |