Amai Brandes
"Combining psychology with philosophy allows me to consider new perspectives."
The bachelor programme in Psychology at the University of Groningen is difficult but fascinating. For Amai Brandes from Germany, the first year required a lot of work and dedication. But in return, it provided her with interesting new information and viewpoints. Intrigued by what the lectures offer her, she entered the Honours College and now studies Philosophy in addition to Psychology.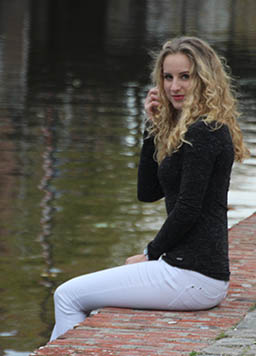 After some research, the Bachelor in Psychology at the University of Groningen stood out for the 18-year old Amai. "I enjoy getting an insight into the scientific approach to human behaviour and cognition. In the bachelor's programme you learn to study so many different aspects of psychology from the first day onwards. I especially like the practical course 'Dialogue & Group Skills', where we learn how to create a confidential and professional atmosphere in patient settings by actively practising this in role-plays with classmates."
The Honours College
After the first semester of studying Psychology, Amai noticed that she was managing quite well with the workload and exams. This was when she decided to apply for the Honours programme in Philosophy, which is a programme of extra courses offered by the University of Groningen. It gives ambitious students the opportunity to study philosophy next to their regular Bachelor's programme and possibly even graduate with an additional Bachelor in Philosophy of a specific discipline. "This is what I am aiming for. The combination of my two programmes allows me to expand my horizon and to consider many new perspectives," Amai states. "The ethics of psychological research, conflicts that arise in social settings and strategies to improve a patient's or organization's well-being are matters that catch my interest the most." Hence, for the next year she is looking forward to learn even more about the varieties of psychological and philosophical fields and viewpoints.
Exploring Groningen
Articles and videos, which she found on the university's website gave her an idea of what was waiting for her at the start of her study in Groningen. However, moving to Groningen and leaving behind her friends and family was a leap of faith. "I came to Groningen in July, two months before the actual start of the programme. This allowed me to follow a Dutch course for native speakers of German, which the University of Groningen offered to students for free. I strongly recommend this to prospective international students," she emphasizes. "You get a feeling of the Dutch language and you already meet some fellow students. I met my friend Lisa there and we started to explore Groningen together."
The first weeks
"Don't think it will be like high school. It is up to you – and only you – to self-regulate your learning and free time. Essential for finding new friends is the KEI introduction week; here you will have a ton of fun with exciting activities and parties. I also joined the study association VIP. At their introduction week and camp on the island Ameland, I met many of my classmates and friends."
Favourite spot:
Barbecue, swimming, playing volleyball: According to Amai, it cannot get any better than at the Hoornsemeer. "It is a few kilometres south of the city centre; nonetheless, it is so worth the bike ride. Call your friends, take some food and drinks and find a nice spot on the grass. Need a cool down? Just go ahead and run into the refreshing water!"
| | |
| --- | --- |
| Laatst gewijzigd: | 04 juli 2017 17:21 |