Planning lecture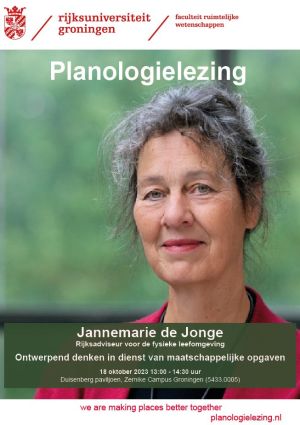 Agenda
The next Planning Lecture will take place on October 18, 2023 in the Duisenberg Paviljoen, Zernike Campus Groningen, at 1pm.
Biografie
Jannemarie de Jonge (1961) studeerde landschapsarchitectuur aan de Wageningen Universiteit. Zij werkte achtereenvolgens bij de gemeente Ede, provincie Noord Brabant en onderzoeksinstituut Alterra. In deze periode voerde ze als buiten promovendus haar PhD onderzoek uit naar de betekenis van een strategische, onderzoekende ontwerpbenadering ten dienste van complexe omgevingsvraagstukken. De studie onderzoekt het typische ontwerpdenken, in vergelijking met en afgezet tegen wetenschappelijk en politiek denken en handelen ('Landscape architecture between Politics and Science': an integrative perspective on landscape planning and design in the network society'. Wageningen, 2009). In 2007 was ze mede oprichter van adviesbureau Wing, gespecialiseerd in duurzame ruimtelijke ontwikkeling. Nevenfuncties beslaan een breed spectrum van jury's, wetenschappelijke of strategische adviesraden, onderwijsactiviteiten tot meer activistische initiatieven als het Jaar van de Ruimte (2015).
In 2020 werd zij voor een periode van vier jaar benoemd tot Rijksadviseur voor de fysieke leefomgeving. Ze combineert dit met haar werk als partner bij Wing.
Teaser
Ontwerpend denken in dienst van maatschappelijke opgaven
De opgaven voor biodiversiteit, klimaat en een rechtvaardige leefomgeving zijn groot. Zo groot dat we fundamentele vragen moeten stellen bij principes en concepten die lang vanzelfsprekend leken. Denk aan maakbaarheid, functiescheiding, groei, schaalvergroting, bezit. De komende decennia staan in het teken van maatschappelijke transities die grote ruimtelijke impact hebben. De ontwerpende en plannende disciplines hebben een belangrijke rol in het voeden en begeleiden van die transities.
In Nederland kennen we een lange en toonaangevende traditie in ruimtelijke planning en ontwerp. Op welke punten is deze traditie nu nog behulpzaam en waar zit ze ons in de weg? Wat zijn constanten die van waarde blijven en wat vraagt om een paradigmashift? Jannemarie de Jonge zal tijdens de planologielezing ingaan op wat ontwerpend denken in essentie is en hoe we daar als ruimtelijke vakgemeenschap in dit cruciale tijdgewricht invulling aan kunnen geven.
Planning Lecture
The Planning lecture is organised by the Department of Spatial Planning and Environment of the Faculty of Spatial Sciences. The idea of the Planning lecture is to have an informative an discipline related presentation on state-of-the-art debates in Planning and/or Geography either in planning practice, or in academia. We hope that visitors get inspired by a lecture that makes it possible to generate new reflections on existing ideas and concepts. The lecture series invites the audience to develop new perspectives and to get beyond business-as-usual.
For whom?
The Planning lecture is public. First of all students and staff from the Faculty of Spatial Sciences are very much welcomed. The very same is true for students and staff from other disciplines. And last but not least, we do also warmly invite professionals and simply those that are interested to join the lecture series.
Re-watch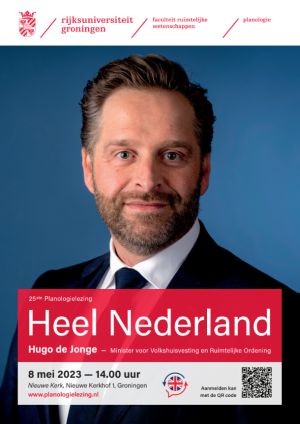 Hugo de Jonge: Heel Nederland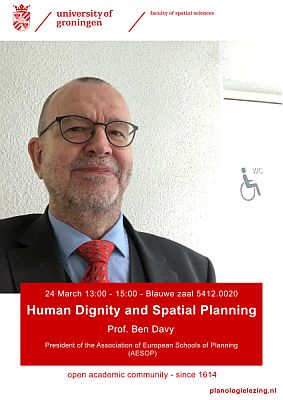 Prof. Ben Davy - Human Dignity and Spatial Planning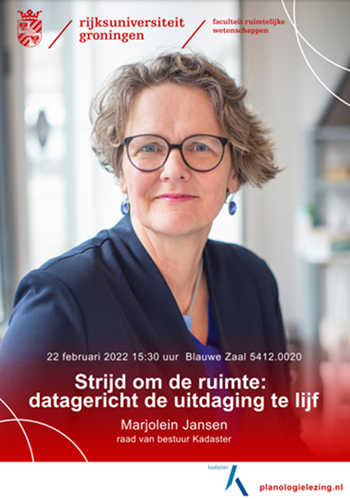 Marjolein Jansen - Strijd om de Ruimte: Datagericht de Uitdaging te Lijf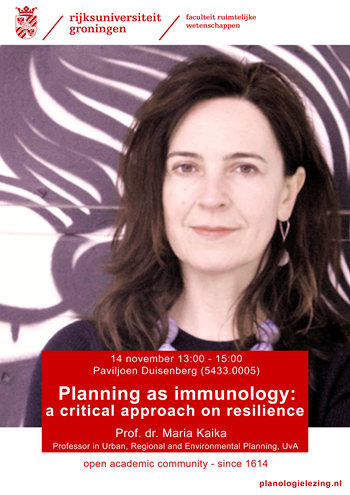 Planning as Immunology: A critical approach on resilience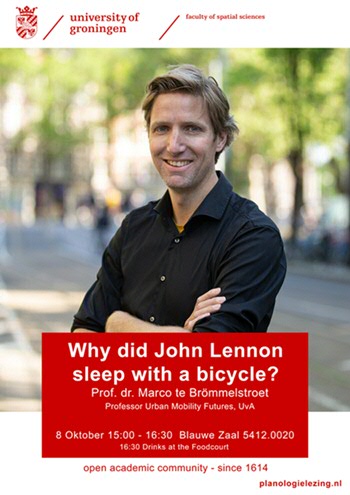 Prof. dr. Marco te Brömmelstroet - Why did John Lennon Sleep with a Bicycle?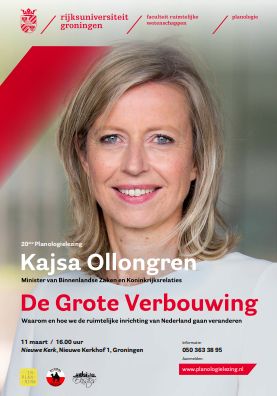 Kajsa Ollongren: De Grote Verbouwing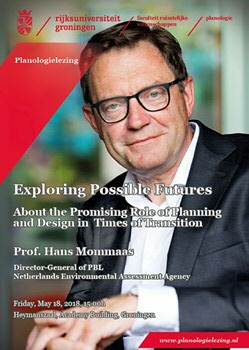 Prof. Hans Mommaas: Exploring possible Futures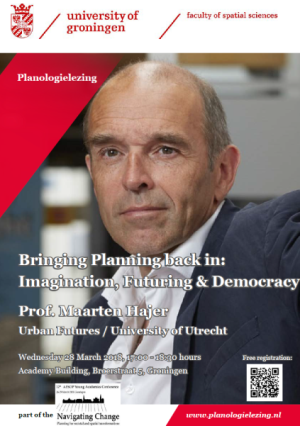 Prof. Maarten Hajer - Bringing planning back in: Imagination, Futuring & Democracy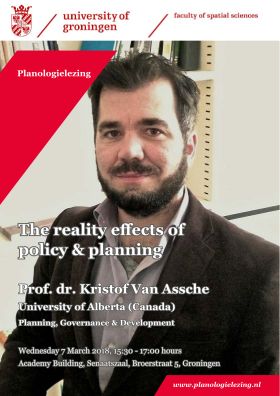 Prof. dr. Kristof Van Assche - The reality effects of Policy and Planning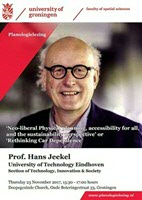 Prof. Hans Jeekel - Neo-liberal Physical planning, accessibility for all, and the sustainability perspective' or 'Rethinking Car Dependence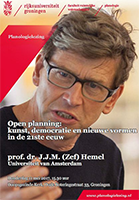 Prof. dr. J.J.M. (Zef) Hemel: Open planning - kunst, democratie en nieuwe vormen in de 21ste eeuw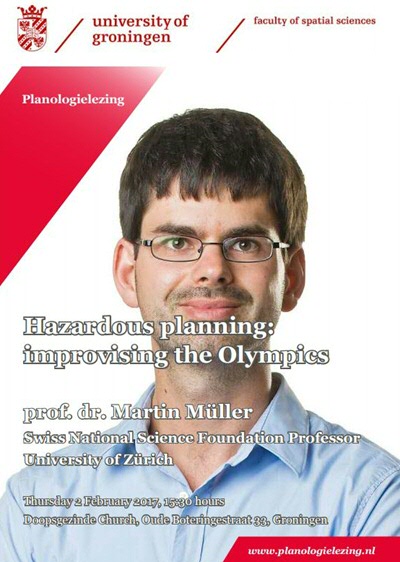 Dr. Martin Müller - Hazardous planning: Improvising the Olympics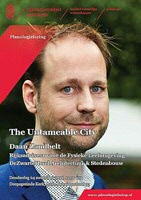 Daan Zandbelt - The Untameable City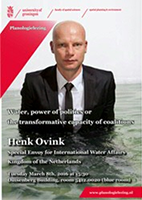 Henk Ovink - Water, power of politics or the transformative capacity of coalitions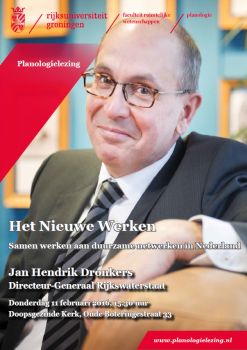 Jan Hendrik Dronkers - Het Nieuwe Werken: Samen werken aan een duurzame netwerken in Nederland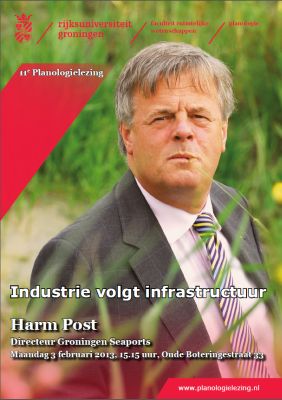 Harm Post - Industrie volgt infrastructuur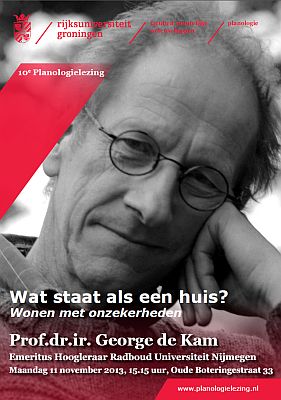 Prof. dr. ir. George de Kam - Wat staat als een huis?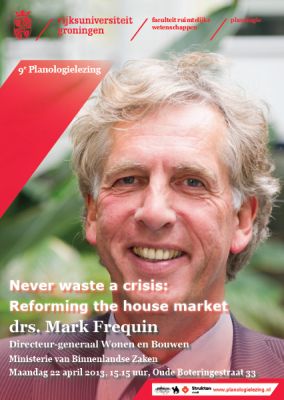 Drs. Mark Frequin - Never waste a crisis: Reforming the house market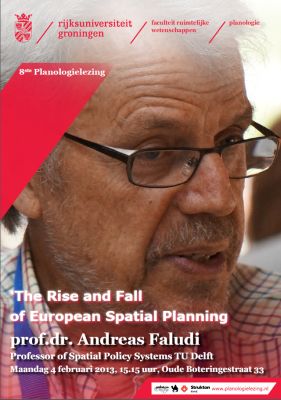 Prof. dr. Andreas Faludi - The Rise and Fall of European Spatial Planning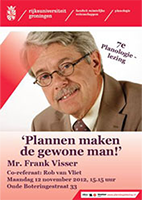 Mr. Frank Visser - Plannen maken de gewone man!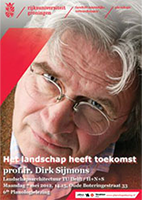 Prof. ir. Dirk Sijmons - Het landschap heeft toekomst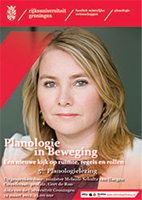 Melanie Schultz van Haegen - Planologie in beweging: een nieuwe kijk op ruimte, regels en rollen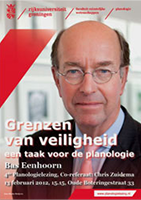 Bas Eenhoorn - Grenzen van de veiligheid, een taak voor de planologie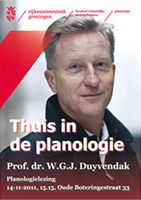 Prof. dr. Jan Willem Duyvendak - Thuis in de planologie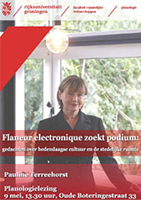 Pauline Terreehorst - Flaneur electronique zoekt podium: gedachten over hedendaagse cultuur en de stedelijke ruimte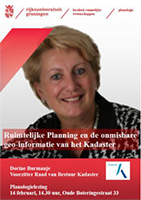 Drs. Dorine Burmanje - Ruimtelijke Planning en onmisbare geo-informatie van het Kadaster
| | |
| --- | --- |
| Last modified: | 07 September 2023 2.00 p.m. |