Opening FEB Academic Year | Thu. 3 September
FEB students, staff, alumni and corporate organizations celebrate the opening of the FEB academic year 2015-2016
Towards sustainable markets | Creating a common future
---
Date: Thursday 3 September 2015, 4.00 - 5.30pm (welcome as of 3.30pm)
Location: Room 15 Kapteynborg, 5419.0015 (Landleven 12, Zernike Campus, Groningen). (Location in Google Maps)
Theme: Towards sustainable markets | Creating a common future
---
On Thursday 3 September FEB and EBF will jointly celebrate the opening of the new FEB academic year 2015-2016, with lectures, discussion, awards, drinks, live music, and more!
We welcome two prominent alumni of our university to give a guest lecture.

Festive opening event with:
---

- Roelof Joosten, CEO Royal Friesland Campina
(Chemical Engineering graduate, RUG , 1983)

In his lecture, Joosten will focus on the sustainable strategy of Friesland Campina, and the shift to consumer well-being.
---
Roelof Joosten is CEO of Royal FrieslandCampina N.V. since 1 June 2015. He is also chairman of the NZO (Dutch Dairy Organization). Joosten obtained his Master Degree (Ir.) in Chemical Engineering at the University of Groningen, started working in marketing and sales and became manager at Unilever. From 1998-2004 he worked at Quest International, as Vice-President Global Marketing and Product Management and as Regional Vice-President. In 2004 he started to work for Friesland Foods / FrieslandCampina Domo. Before he became CEO in June, he was COO Business group Ingredients & member of the Executive Board.

FrieslandCampina, based in Amersfoort, is one of the world's five largest dairy companies with offices in 32 countries and about 22,000 employees.
► Read our Interview with Joosten: "CEO in the 'Champions League' of the dairy industry". [Available in Dutch and English]
We speak to Joosten about his time as a student in Groningen, his career, the plans of FrieslandCampina, promoting pasture milk, the impact of the Russian boycott and his advice for current students.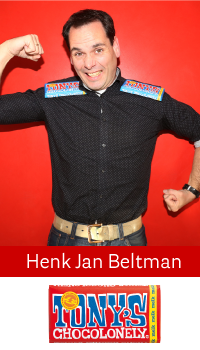 ---

- Henk Jan Beltman, CCO -Chief Chocolate Officer- Tony's Chocolonely
(Business Administration graduate, FEB, 2000)

In his lecture Beltman will explain his philosophy on doing business in a sustainable way.
---
Henk Jan Beltman is CCO at Tony's Chocolonely since 2010. After graduating in Business Administration at the FEB, he started working as commercial management trainee at Heineken and in 2001 as national promotions coordinator at Vrumona (Pepsi, Sisi, 7up). In 2002 he became junior brand manager Pepsi & 7up. From 2004-2008 he was country manager Benelux at Innocent Drinks, during which he also finished his Master of Food Management at EFMI Business School.
The mission of Tony's Chocolonely, based in Amsterdam, is 'crazy about chocolate, serious about people'. Read the history of the company.
► Read our Interview with Beltman: "My motivations are pride, and being autonomous and taking my own decisions" [Available in Dutch and English]
We speak to Beltman about studying business in Groningen, his career, his vision on sustainable business, his plans with the company towards 100% slave-free chocolate and his advice for the students of today.
---

- FEB Professor of Marketing Peter Verhoef .
Chairman of the Opening Ceremony

Award ceremonies for:

► FEB Newcomer of the Year
► FEB Freshman of the Year
► FEB Lecturer of the Year

Presented by FEB vice-dean professor Albert Boonstra and Quest
Programme
15.30
Welcome
16.00
-Opening by prof. Peter Verhoef
-Welcome by FEB dean prof. Harry Garretsen and EBF chairman Ilse Grasmeijer
16.10
EBF Guest Lecture Roelof Joosten
16.30
Presentation of awards by vice dean prof. Albert Boonstra and Quest boardmembers
16.50
EBF Guest Lecture Henk Jan Beltman
17.10
EBF Debate
17.30-18.30

-Drinks, snacks and live music in the Duisenberg Plaza

-Opening 'Walk of Fame'
| | |
| --- | --- |
| Last modified: | 01 February 2023 4.19 p.m. |